Why you need the best chainsaw gloves?
There has been a time when getting rid of hedge outgrowth and growth of extra limbs in the yard was a big problem for homeowners. But because of the dawn of the machines, it's just a piece of cake to get rid of them using different kinds of trimmers or pruners.
But these pieces of machinery are not so easy to use without suitable safety gear. The safety gear includes a chainsaw helmet, visor, ear defenders, gloves, etc. Chainsaw gloves play a big part in your safety as they protect your sensitive hands from injuries.
If you are looking around for a good chainsaw glove to buy, you've come to the right place. But first let us look at different factors which we must glance through in order to choose the perfect product for you.
Comfort:
Make sure that the gloves you buy are made up of comfortable materials like leather. You can use the gloves made up of leather in a graceful and comfortable way.
Kevlar Coating and Sews:
What more can be a safer fabric than Kevlar, the fabric used in bulletproof vests and helmets? The fabric magnifies the tensile strength of the gloves, which ensures a tremor-free and safe experience.
Budget:
It's obviously true that more the price of any product, more the complexity of the features is seen. So, buy a product that will match your requirements, and don't just look at the price, because sometimes, it can happen that a cheaper product may be better for you than the costlier one.
So, after glancing through the factors, let's take a look at the best chainsaw gloves available out there in the market:
Husqvarna 579380210 – Best Chainsaw Gloves
As we know, chainsaw is a very dangerous tool, and the Husqvarna chainsaw gloves have been optimized perfectly to protect you from accidents that happen unknowingly.
When you use the chainsaw, the left-hand feels more strain than the right hand, making it vulnerable to accidents. The manufacturers have taken this into account and made the left glove stronger and more cut resistant.
The palm of these chainsaw gloves is made up of goatskin, which makes it more cut resistant and gives a comfortable working to the user. It even absorbs moisture, which is a big punch against the sweat.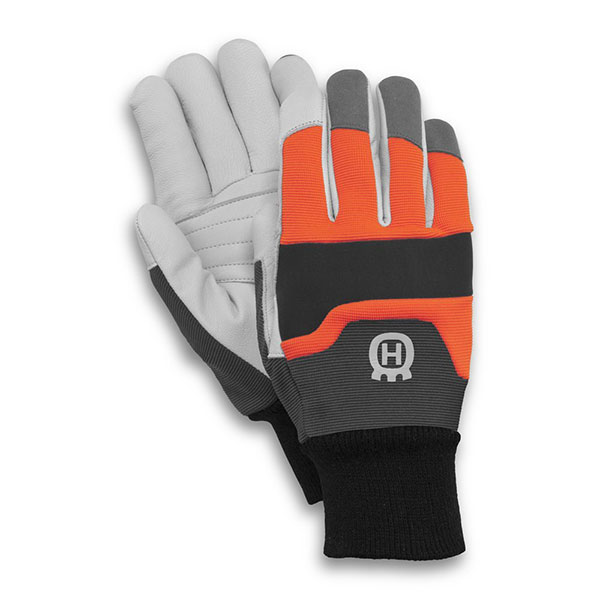 Check Price in Amazon
Pros:
Very durable
Perfect design
Extra protection to the left hand.
Palm region made up of goatskin.
Cons:
Right hand side lacks cut resistant feature.
Echo 99988801601 – Chainsaw Kevlar Reinforced Protective Gloves
These gloves provide additional safety by giving two Kevlar layers at the back of the gloves. There are foam waddings in the palm area which ensure tremor absorption and an accident-free usage.
To ensure a firm grip, goatskin (natural leather) is used on the front. As said earlier it also absorbs moisture and facilitates a slip free working.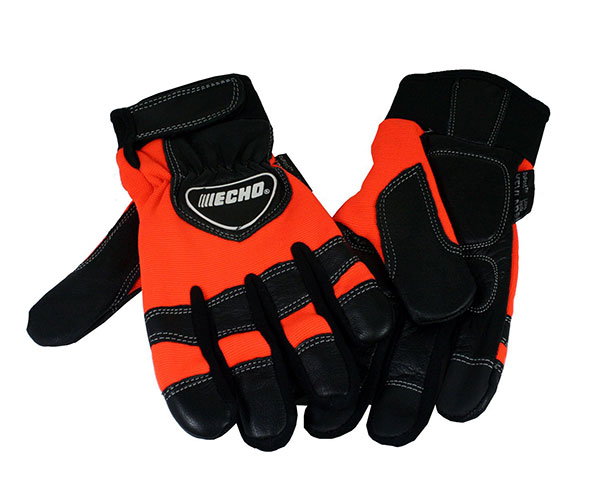 Check Price in Amazon
Pros:
Super protection due to double Kevlar lining.
Robust and durable.
Reduces tremors.
Cons:
Anti-tremor system is reported to stop working after some time.
Some users have experienced rip offs in the gloves.
Youngstown Gloves 05-3080-70-L – Chainsaw Safety Gloves
Best chainsaw protective gloves. If you want a perfectly fine cut-resistant system then this is the product you can go for, as it is rated level 3 for cut resistance. It has a Velcro closure which increases the easiness of fitting property of the gloves.
It can be washed completely by washing machine. You need to air dry it compulsorily.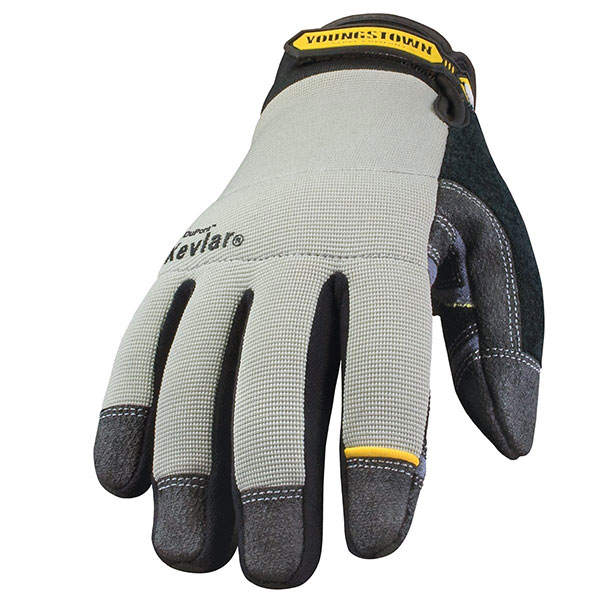 Check Price in Amazon
Pros:
Completely cut-resistant.
Coated with Kevlar fibres.
Heavy duty palm strengthening.
Cons:
A little bit stiffer than other gloves.
It has a strong smell and can be a problem to some users.
Youngstown Gloves 09-9083-10-L – Chainsaw Kevlar Gloves
The whole body of these gloves are covered with linings of Kevlar fibre, which increase the tensile strength and facilitates easier usage of the product. The gloves have a high visibility property, which allows easier usage in low-light applications.
To protect our fingers from impacts, thick TPR is tactically placed on top of the hands. But fear not, it does not affect the mobility of the gloves in any way.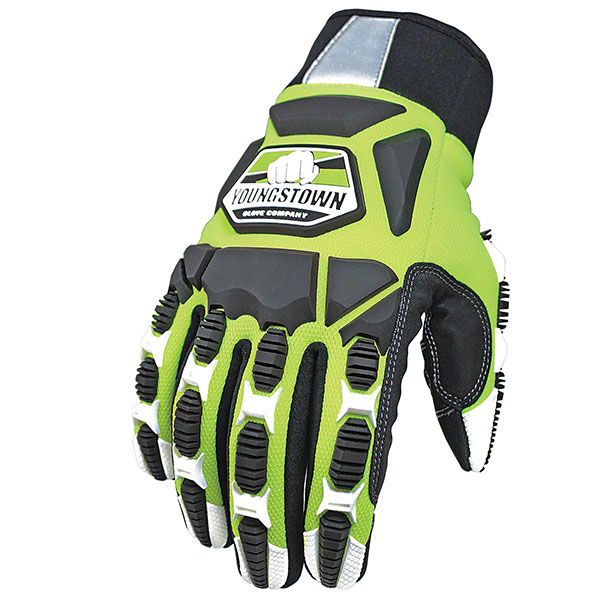 Check Price in Amazon
Pros:
Double lining inbuilt, which increases the sturdiness.
Immensely resistant against punctures and cuts.
Cons:
Some users have reported hardness to put the gloves on.
Sometimes, the prescribed size does not fit perfectly.
Endura Hi-Viz – Cut Resistant Gloves Reviews
Forester chainsaw gloves. If you want a glove that is perfectly water-resistant, then this is the go-to product for you. The Velcro wrists have an elasticized to improve the fitting property and helps to keep out fragments that sneak in.
This chainsaw glove's Kevlar can protect you from chain cuts, and it can withstand chain speeds of around 3000 feet per minute.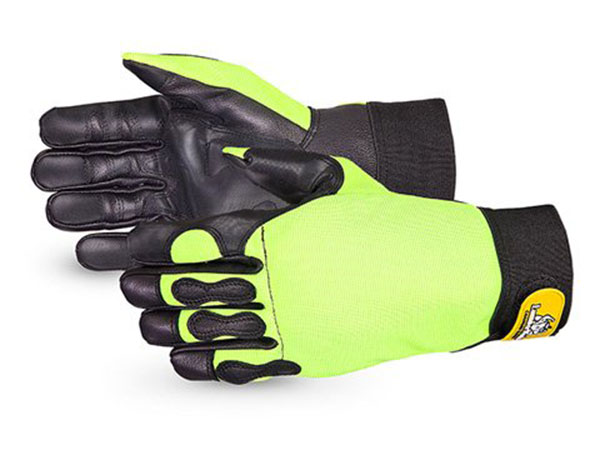 Check Price in Amazon
Pros:
The rear layer is completely waterproof.
No vibration can penetrate the anti-vibration system.
Elasticated Velcro wrists to prevent debris' infiltration.
Cons:
Some users have reported inaccurate sizing.
Problem of falling apart after a short time in rare cases.
Vgo Chainsaw Work Gloves – Saw Protection on Left Hand Back, Safety Gloves
Best gloves for woodworking. This product comes with textured PVC palm patches which provide extra robustness. It is coated with authentic goat leather to improve gracefulness and safety.
These gloves are very well-made, they even have a high-visibility property to ensure easier operation in low-light areas. These gloves are one of the cheapest products out there in the market.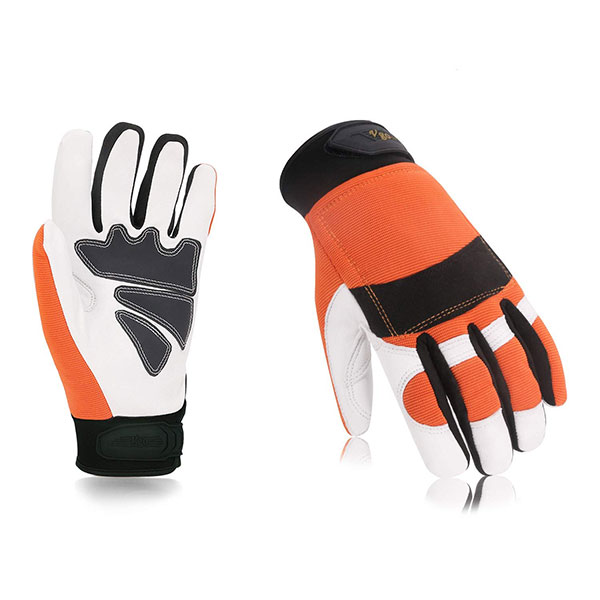 Check Price in Amazon
Pros:
Maximum durability.
High visibility.
Velcro adjustment to improve fitting.
Cons:
The protection in the gloves is not up to the mark.
Several users have reported disentanglement of the stitches.
Some users reported cheap build quality of the gloves.
Conclusion:
After looking through all the products we have listed, you might have come up with the product that is perfect for you. Choose wisely, don't go on and select a product blindly and regret your decision in the future. As we know, safety is our utmost priority and we mustn't overlook this important factor. Don't be a fool, choose the product astutely and enjoy the features it has to offer. Always be on the safer side, with the best chainsaw gloves.