In this age of innovation and technology, electric lawn mowers have come a long way to give you the efficiency that you desire while being environment and pocket-friendly. Electric lawn mowers can be powered via a cable (corded) or battery powered (cordless). Corded lawn mowers are a much cheaper and cleaner option than their cordless and gasoline powered counterparts and are ideal for small lawn jobs and individual gardens. So, in this post, we shall take you through our 7 picks for the best corded electric lawn mower and help you decide which is the best for you.
A corded electric lawn mower can save you a lot of money. Not only is it cheaper to purchase, but its also cheaper to maintain. Gas powered mowers need constant upkeep with oil changes, spark plug replacements, gas refueling which increases its operating cost. With an electric mower, the only thing you need to do is keep that blade sharp. Cordless mowers need to be recharged fairly often and are often sold without the batteries. Corded lawn mowers can overcome these issues for a hassle free experience.
Check out our reviewed Best Lawn Mower Under 200
Check out our reviewed Best Lawn Mower Under 300
However corded mowers have a shorter range as they depend on a fixed power outlet and an extension cord. You can go as far as the cord allows you and the cord can get tangled and stuck around obstacles. So, if you own a small to medium lawn with fairly fewer obstacles and are looking for a cheap, clean and quiet mowing option you will want to buy a corded lawn mower. Let's have a look at our options.
50514 14-Inch 11-Amp American Lawn Mower – Best Corded Electric Lawn Mower Under 100
The American Lawn Mower electric corded push mower is a reliable and affordable choice. In fact being the cheapest of the lot here, priced under $100, it provides the most value for its price. Its 11-Amp motor is powerful enough to take on the toughest of yards making it apt for home owners to maintain small lawns.
The adjustable handle allows you to customize the mower to accomodate all users and the easy push button start makes it childs play to use this mower. The 14 inch steel blade with the 5-position easy-adjust cutting height options will give you a clean cut everytime. The 2-in-1 options of rear discharge with grass bag and mulching capability makes this lightweight and compact mower very easy to operate and even easier to maintain and stow.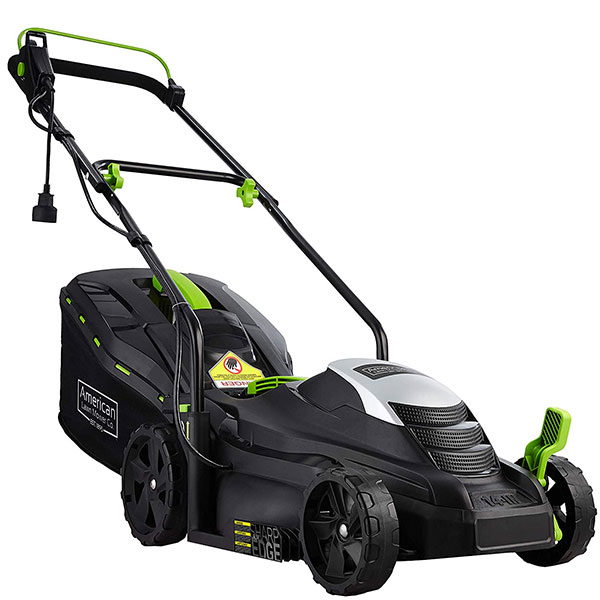 Check Price in Amazon
Key Features:
Dimensions: 46 x 18.5 x 38 inches weighing only 25 pounds making it easy to handle and stow
Powerful 11-amp motor for gas-like power
14″ Cutting width with 5-position easy-change cutting Height adjustment for a clean cut
2-In-1 rear discharge and mulching system with 16 gal grass bag.
Multiple handle height positions for all users and folding handles for easy storage.
7 inch easy roll composite wheels
2 year warranty
Pros:
Value for money
Lightweight and very easy to use
Powerful motor for handling tougher jobs
Cons:
No 3-in-1 or side discharge option available
Not the widest cutting deck so suited only to smaller yards.
FAQs:
Q: Is assembly required?
A: Yes, it only requires installation of 3 bolts with wingnuts and you put on the handle pads and then there are 2 small e-rings that hold the handles onto the mower.
Q: Is it comfortable for someone who is 6ft 2in. Tall?
A: Yes it is. Handle can adjust to suit most heights.
Verdict:
The American Lawn Mower company is known to give us excellent products and this mower is no exception. The most value for money mower here offering you excellent features to keep your lawn looking prim and proper. A great choice for a small but lovely garden.
GreenWorks 20-Inch 12 Amp 25022 – Best Corded Electric Mower Under 200
The GreenWorks 25022 mower is probably the best corded electric mower in our list. It has everything you will ever need in a mower and with a price below $150 it won't burn a hole in your pocket. The powerful 12-Amp motor is capable of tackling thick grass and weeds and the 20 inches wide cutting deck will help you mow larger lawns in no time.
The wide deck is coupled with 7-position height adjustment offering a range from 1.5 to 4 inches of cutting height. The steel deck makes it heavier but also adds durability and with its large 10inch rear wheels you can expect a lot more stability as well. Essential features like push button start, foldable handle, and 3-in-1 clipping discharge make up for much of this mowers appeal.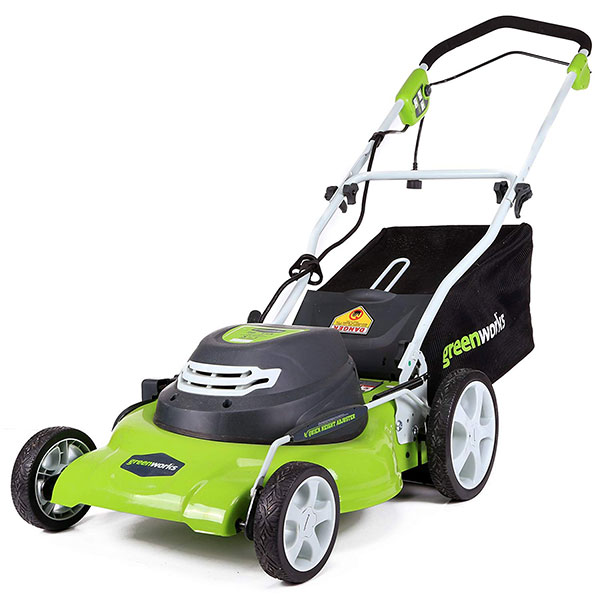 Check Price in Amazon
Key Features:
Dimensions: 26.9 x 16.1 x 18 inches weighing 56 pounds
12 amp motor for a power pact performance
Durable 20-Inch wide Steel Deck with 7-position height adjustment
3-in-1 capable with mulching, side discharge and rear bag
7 inch front and 10 inch rear wheel for excellent maneuverability
Easy push button start and foldable handle for easy storage
Best in class 4 year warranty
Pros:
Wide steel deck makes it more durable than plastic competitors.
Easily cuts through weeds and thick grass
7 position height adjustment ranging from 1.5 to 4 inches
Best in class warranty
3-in-1 features
Cons:
Heavier than its rival but the steel form makes it more sturdy
FAQs:
Q: Is this lawn mower self propelled?
A: No. It must be pushed. However, it's fairly light weight and with the blade set at an appropriate height, it's not hard to do.
Q: How does it perform on damp grass?
A: Works just fine, make sure not to cut too much off and to clean the mower afterwards but it cuts through it with no issues
Verdict:
All in all the Greenworks 25022 really works well. The powerful engine and wide deck make mowing quick and easy. With best in class features and warranty, add to that the sub $150 price tag, makes this the benchmark in this category.
Sun Joe MJ401E Mow Joe 14-Inch 12 Amp – Best Lightweight Corded Lawn Mower
The Sun Joe Mow Joe is one of the most compact and lightweight mowers in the market today making it great for cramped lawns. With an instant push button start the strong 12 amp motor with its rugged all-terrain wheels makes easy work out of thick grass even around those flower beds.
A 14 inch cutting deck with 3 position height adjustment make it ideal for small to medium lawns. Priced just around $100 makes it quite pocket friendly and the 2 year warranty will keep your mind at ease.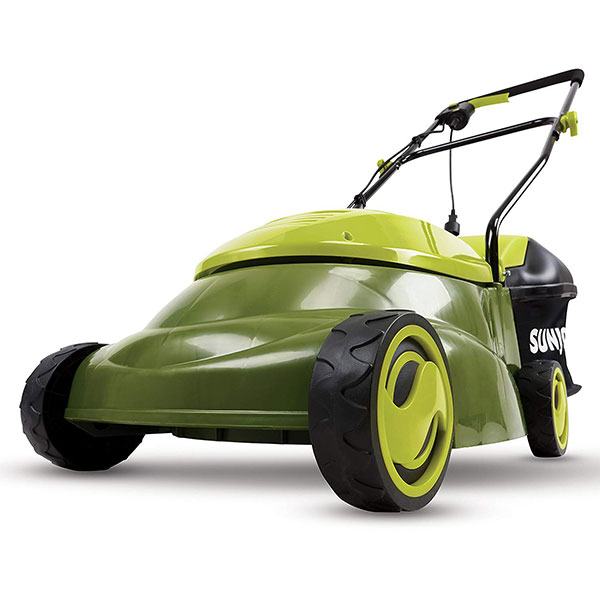 Check Price in Amazon
Key Features:
Dimensions: 36 x 16 x 38.5 inches weighing 28 pounds
12 amp, electric motor to quickly and efficiently mow your lawn
Easy push button start
14 inch Cutting deck with 3-in-1 clipping disposal
Three-position height adjustment upto 2.5 inches
14 gauge minimum rated 100ft extension cord
Pros:
Light weight and easy to handle
Powerful for its size
Comes with 100ft extension cord
Great price
Cons:
Small clipping bag ( 10.6 gallons) requires frequent emptying.
2 levers for height adjustment is slightly inconvenient
FAQs:
Q: Is this hard to push up a hill?
A: No – this mower is very light.
Q: What material is the deck made of ?
A: It is made of ABS plastic which light and sturdy .
Verdict:
The Sun Joe MJ402E is a good choice if you are looking for a cheap yet powerful mower. It can cut through all most all types of grass and is very easy to use. Its compact nature makes it easy to handle however its size does limit it to fairly smaller yards.
Earthwise 50214 14-Inch 8-Amp – Best Corded Mower for Small Lawn Jobs
This high-quality mower is powered by an 8 amp motor which is perfect for small lawn jobs. The 2-in-1 side discharge and mulching option keep your lawn looking topnotch.
The 14 inch cutting deck does a great job and has a height adjustment range from 1.5 to 4 inches allowing you to trim your lawn to perfection. Lightweght and easy to use and even easier to stow. Infact with its handles folded it can even fit into a closet.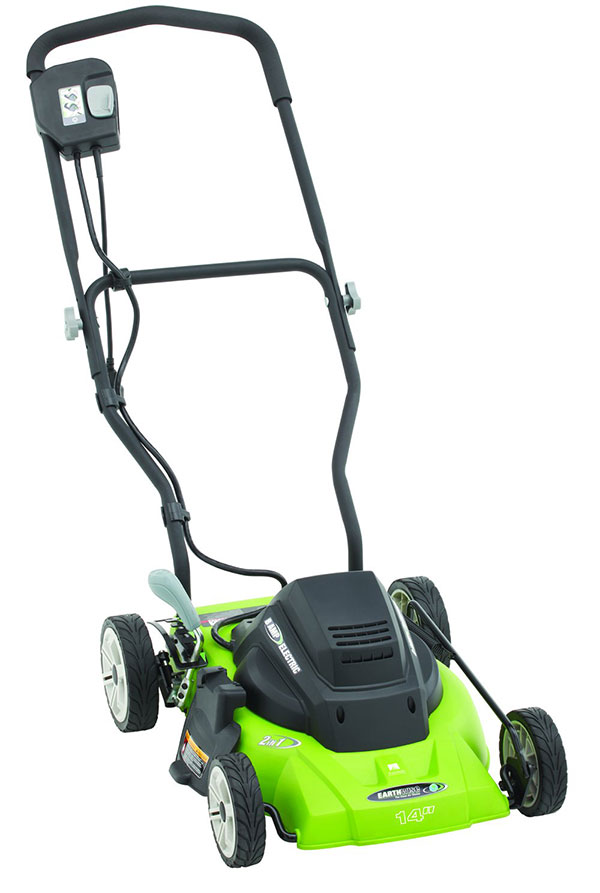 Check Price in Amazon
Key Features:
Dimensions: 38 x 19 x 46 inches weighing 36 pounds
8-Amp motor revving at 3700 rpm
14″ cutting width with single lever easy-change cutting height adjustment from 1.5" to 4"
Adjustable comfort "V" handle with cushion grip which is foldable for easy storage
5.5-inch front wheels and 6.5-inch rear wheels
2-in-1 features of side discharge and mulching
2 year warranty and lubricated for life of unit
Pros:
Lightweight, easy to maneuver
Lubricated for life of unit
No assembly required
Upto 4" cutting height
Cons:
No bagging option
Not as powerful as its rivals
Small wheels
FAQs:
Q: How well does the mower handle small twigs and debris?
A: It does ok with small branches and tree pods, and you can raise the wheels to avoid hitting small stones.
Q: Is the power cord included?
A: You must have your own extention cord.
Verdict:
The Earthwise 50214 has all you need to maintain your yard at a reasonable price. The 50214 comes lubricated for the life of the unit which is another expense taken care of and the motor is strong enough to handle most grass types. A great choice for that beautiful garden u always wanted.
Greenworks 21-Inch 13 Amp MO13B00 – Best Powerfull Corded Electric Lawn Mower
The Greenworks 25112 is the answer to the people who think that an electric mower cannot match a gas powered one. The biggest corded electric lawn mower in our list with its 21inch wide cutting deck is more than capable of handling any medium sized lawn. With a powerful 13 amp motor thrown in the mix, this mower can cut through the high grass and unsightly weeds with the utmost ease.
It has similar features like the Greenworks 25022 but with a bigger cutting swathe and slightly more powerful motor does make it a worthy choice. Priced at around $160 it is still pretty affordable and turns out be a good overall package.
Check Price in Amazon
Key Features:
Dimensions: 31.5 x 17.2 x 23.2 inches weighing 53 pounds
Powerful 13 amp motor for amazing performance
Solid 21-inch steel cutting deck for quick and efficient mowing
3-in-1 mowing options of rear bagging, mulching, and side discharge
7-position height adjustment with a 1.5" to 4" cutting height range
7" front and 10" rear wheels for excellent handling
Class leading 4 year warranty
Pros:
Tough steel deck for great durability
Widest cutting deck in the segment
High powered motor
All essential features at a great price
Class leading warranty
Cons:
Heavier than its rivals
Blades can slow down while mulching
FAQs:
Q: Is this a brushless motor?
A: It is not a brushless motor unit.
Q: Can this be stored in a compact upright position?
A: This mower has convenient handles that fold down for storing, however it is not recommended to be stored upright.
Verdict:
A slight upgrade from the Greenworks 25022, the Greenworks 25112 is a great choice if you want that little bit more out of your electric mower. For a slight hike in cost you can cover more ground and that too in lesser time. So if you're looking for a powerful yet clean mower this would be the apt choice.
BLACK+DECKER MM2000 13 Amp 20-Inch – Best Corded Electric Lawn Mower for around 200 dollar
Black and Decker has always been a powerhouse with some of the best lawn mowers in the industry. With plenty of power on offer coupled with a wide cutting deck this seems to be a very reasonable choice even with the higher price of just under $200.
The MM2000 with its class leading features and lightweight,compact frame make it a breeze to mow down even the toughest of grass. The EDGEMAX technology allows you to mow right up alongside landscape borders with absolute ease. With the MM2000 you will always find your lawn looking like a work of art.
Check Price in Amazon
Key Features:
Dimensions: 34.9 x 16.8 x 21.9 inches weighing 47 pounds
13-amp motor for plenty of power
20-inch cutting path with EdgeMax for a finer cut
3-in-1 mowing options and 7-setting height adjustment for mowing preference
3-gallon nylon grass collection bag and easy adjustable handle height for people of all sizes
2 year warranty
Pros:
Effective at cutting close to edges
Mulches the grass very finely
Lightweight and compact with a easy to carry handle
Big 13 gallon collection bag
Cons:
Feels less durable with lots of plastic parts
A little expensive
FAQs:
Q: What is the height of the handle?
A: There are two positions that the handle will lock in place and they are numbered 1 and 2. Number one is for short people like me and it is 40 inches from the ground to the top of the handle. Number two is 4 inches higher.
Q: Is this a reliable mower?
A: It has worked great for me so far! used it all last season with no issues
Verdict:
The Black+Decker MM2000 is a reliable power tool from a company known for setting standards in home care products. Although it is the most expensive option on our list, with the benefits it offers, it is money well spent.
GreenWorks 12 Amp Corded 18-Inch Lawn Mower with Extra Blade 25012
Joining the Greenworks bandwagon in our list is the Greenworks 25012. This mid-size electric mower is perfect for people who want a wider cutting path but not too wide for a small lawn. Here the 18-inch cutting deck fits right in and its grunty 12 amp motor provides it with all the power to plough through all types of grass.
It offers mulching and side discharge with 7 position height adjustment and 7 inch wheels for stable control even over uneven ground. Priced a little higher than expected and it lacks a bagging option however it is still a good option for someone wanting a wider cutting path in a more compact form.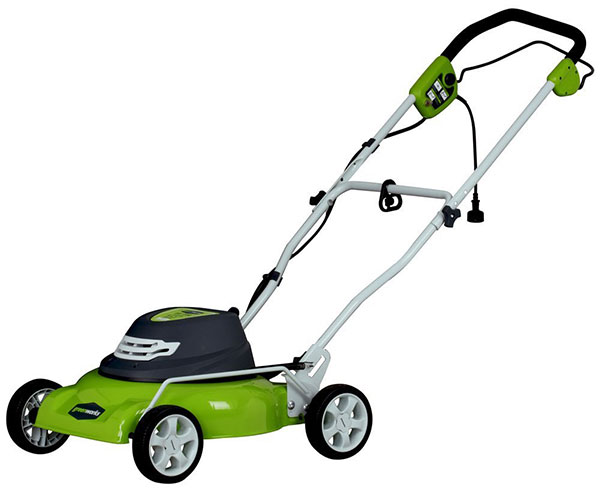 Check Price in Amazon
Key Features:
Dimensions: 28.5 x 22 x 14.2 inches weighing 46 pounds
High power 12-amp motor
18-inch cutting deck made of tough steel with 7 position height adjustment from 1.5" to 4"
2-in-1 mowing options – no bagging option
7 inch wheels for easy handling around obstacles and uneven terrain
Class leading 4 year warranty
Pros:
Easy to set up as no assembly required
Powerful motor for its compact size
Very durable with a steel deck
4 year warranty
Cons:
No collection bag option
Priced close to some of the bigger models
FAQs:
Q: Does this mulch leaves?
A: This mower can mulch some dry leaves
Q: Which extension cord is recommended?
A: You should use a heavy-duty, three-prong, grounded cord that is designed for outdoor use
Verdict:
The Greenworks 25012 is a handy little mower with a big bite. It can mow a small lawn really quickly and can be stored away with equal ease. The Greenworks 25012 is a great mulcher, even for leaves and can be used even during the fall. A fine choice for a fine lawn.
Buying guide:
Still not convinced! Check our lawn mower buying guide.
Conclusion:
So as you can see an electric corded lawn mower is a reliable and affordable piece of hardware that can tend to small and medium sized lawns with ease and efficiency. Most of them come with powerful motors which can handle the toughest jobs and high end features for a price well under $200.
To summarize the choice is yours. We recommend the Greenworks 25022 as it is the most bang for the buck product in our list with similar features to the bigger 25112 and the MM2000 at a lower price. It is the perfect mower for a small to medium lawn. However if you have a smaller budget the Sun Joe MJ401E is also a good option.