Looking for a lawn mower under 200 dollar for the mowing season? Well, you have come to the right place as we have a whole list of options for you to sift through and find out which is the best lawn mower under $200.
You must have heard that buying a low budget mower means compromising on performance and ease of use. The latter might even be true as mowers in this range are generally push mowers which of course need more effort to use, however, these machines can pack a punch and get you through most lawn jobs without a hitch.
Here we have our handpicked list of 10 lawn mowers priced below $200 which will be vying for the spot of the best lawn mower. At this price point, you will basically find a push reel mower or a corded electric mower both of which are ideal for small to medium lawns and are more than capable of keeping your garden looking neat and beautiful. Let's go ahead and see what we have in store.
American Lawn Mower Company 50514 – Best Corded Lawn Mower Under 200
This offering from the American lawn mower company is an excellent example of great performance for a low price. This corded, electric mower employs its 11 amp motor and 14 inch cutting path to give you a neatly trimmed lawn. The rear clippings discharge bag and mulching capabilities will keep your yard nourished and healthy. Priced around $100 makes it one of the most affordable electric mowers in our list.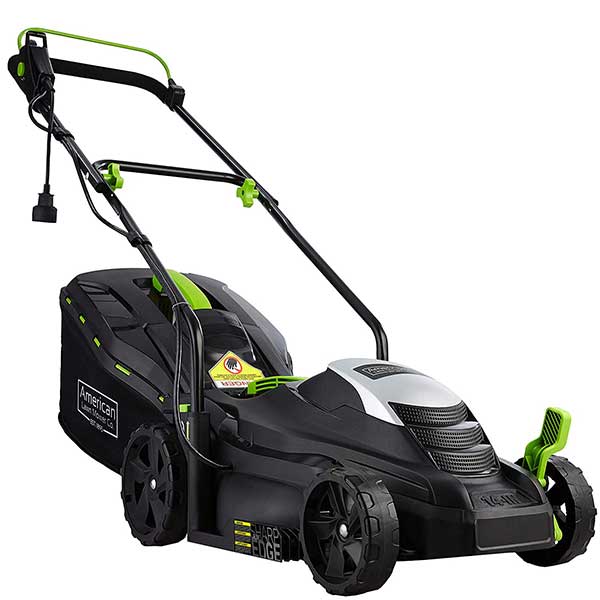 Check Price in Amazon
Key Features:
Compact size and weighing just 25 pounds makes it easy to use and store
The 11-amp motor provides near gas-like power
Wide 14" deck with 5 position height adjustment
16 gallon rear grass bag and mulching capabilities
Multiple handle height positions for comfortable use by people of all sizes
2 years warranty
Pros:
Electric motor for more power to the blades for mowing better than reel mowers
Cheap and efficient
Compact and lightweight
Cons:
Lack of side discharge option
Verdict:
Great value for money machine capable of handling small to medium lawns with ease.
BLACK+DECKER BESTA512CM – Best Compact Electric Lawn Mower Under 200
A well groomed garden requires precision trimming especially around the edges of flowerbeds and trees. This can sometimes mean that a simple mower is not enough and you need some extra tools. Black & Decker have provided a solution for that with the BESTA512CM 12" corded electric lawn mower. Meant primarily for small yards, especially those that need a lot of edging and trimming, this compact mower plays the role of the mower, trimmer, and edger to perfection. This unique mower uses a 0.065-inch diameter trimmer string, the "Auto-Feed Trimmer Line Spools AF-100", instead of metal blades to help you maintain a pretty garden with its versatility.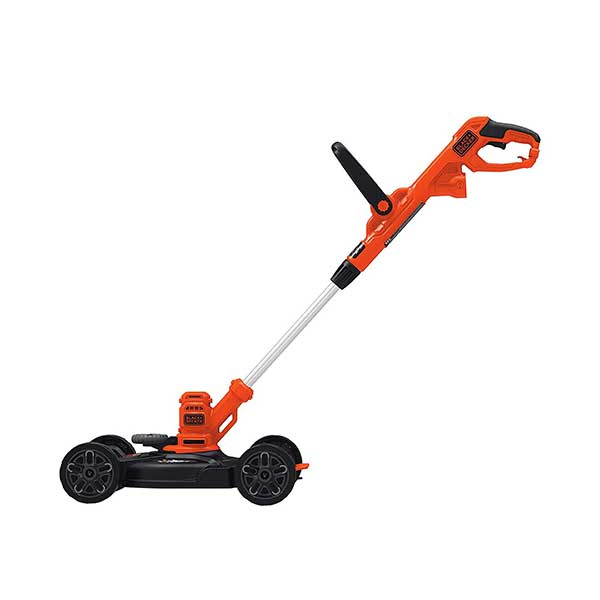 Check Price in Amazon
Key Features:
3-in-1 mower, edger and trimmer
6.5 amp electric motor with 12" cutting path
Height adjustment range from 1.6 to 2.4 inches
Very light weighing only 13 pounds
PowerDrive transmission and Automatic Feed Spool system for less string hassles
AF-100 string instead of mower blades for fine trimming
Pros:
3 tools in 1
Compact size is perfect around landscapes and tight spaces
Effective for small crowded gardens
Cons:
Small cutting path
Looks a little flimsy at first sight
Verdict:
The perfect tool for people who own small gardens with lots of trees and landscaping features with it's unique 3 in 1 ability.
GreenWorks 25022 – Best Electric Lawn Mower Under 200
A powerful offering from Greenworks which provides the most bang for the bucks. Priced at about $150 it supasses most expectations you would have with mowers at this budget. With loads of features and amazing performance the Greenworks 25022 is  the best corded electric lawn mower in our list. Undoubtedly the one to beat.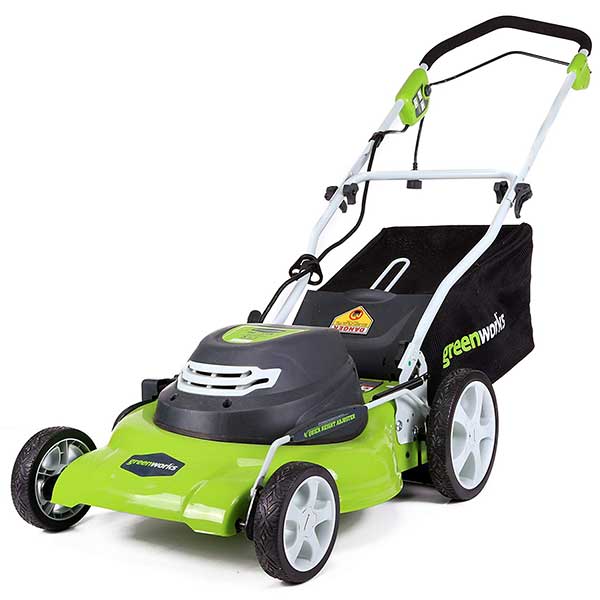 Check Price in Amazon
Key Features:
Power pact 12 amp electric motor
Lightweight and compact, very easy to use
20-Inch Steel Deck with 7-position height adjustment provides a wide precise cut
Mulching, side discharge and rear bag options for clippings discharge
7-inch front and 10 inch rear wheel for better handling
Class leading 4-year warranty
Pros:
Wide and durable steel deck
Powers through thick grass and weeds with ease
Height adjustment ranging from 1.5 to 4 inches for a more customised cut
Wide array of features
Longest Warranty period
Cons:
Heavier than the competition
Verdict:
More than capable of handling small to medium lawns and with enough power to slice through the thickest of grass the Greenworks 25022 is definitely a segment leader.
Great States 204-14 – Best Hand Reel Push Lawn Mower Under 200
If you own a small yard it sometimes doesn't make sense to invest in a big motorized lawn mower. The Great States 204-14 covers that area pretty well. At just $62 it is the most inexpensive push reel mower on our list. Its lightweight and compact design for easy usage and storage, 14 inch wide cutting reel with 4 blades and large outer wheels helps give you an even cut. Its simplicity makes it easy to use and maintain.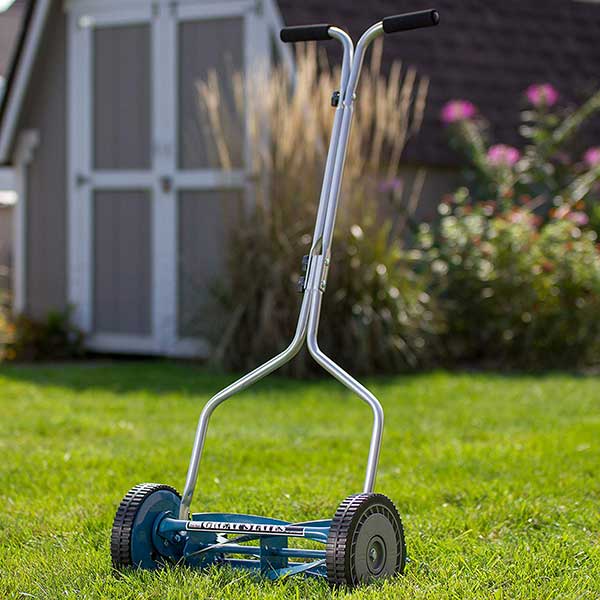 Check Price in Amazon
Key Features:
Simple and easy to use lightweight (19 pounds) design
14" cutting reel with 4 blades for a scissor like cut
8.5" composite wheels for added stability on uneven terrain
Made of steel allow- durable and easy to maintain
1 year warrant
Pros:
Simple and easy to use
Durable and easy to maintain
Very low price
Cons:
Cannot handle tougher grass well
Limited cutting height
Verdict:
A good choice for someone who owns a very small lawn with slender grass. A practical money saving choice for an evenly cut lawn.
Sun Joe MJ401E – Lawn Mower with Grass Bag
The Sun Joe MJ401E is a compact corded electric lawn mower which is surprisingly powerful. An impressive 12 amp motor fitted in this small lightweight body makes short work of most small lawns. The 14" cutting deck does a neat job and the rear bag makes sure to leave your lawn looking clean and fresh. Priced at about $100 this mower is very affordable and a delight to use.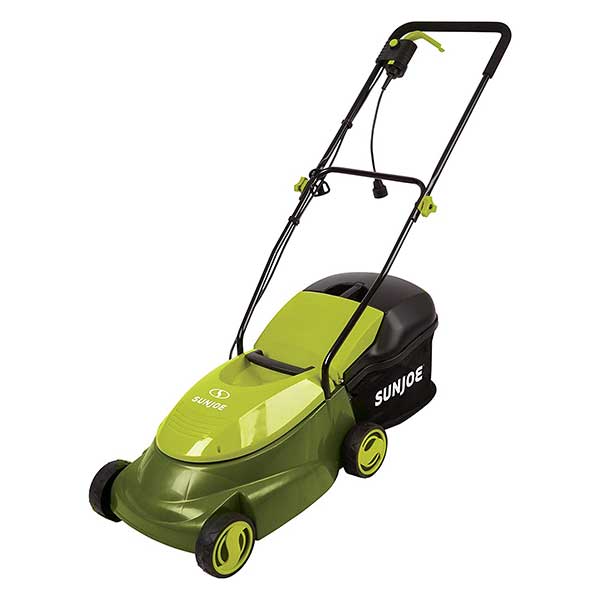 Check Price in Amazon
Key Features:
Compact and lightweight at just 28 pounds
Punchy 12 amp motor can take care of most types of grass
14" deck with 3 point height adjustment ranging from 0.8 to 2.4 inches
Hard top grass catcher with easy detachment
6" wheels designed to travel over rough terrain
2 year warranty
Pros:
Very light for a motorized lawn mower
Powerful for its size and price
Very simple to assemble and use
Very affordable
Cons:
Small 10 gallon grass bag means more stoppages for emptying it
No option for mulching or clippings discharge
Verdict:
An amazing little mower with a whole lot of power at a bargain price. A simple no frills electric mower which is very easy to use even for first time mowers.
Greenworks 25052 – Reel Lawn Mower with Grass Catcher
Ideal for small flat lawns the Greenworks 25052 ensures quality performance at a reasonable price. At just 32 pounds its very easy to handle and the 16" wide cutting reel with 5 blades gives you a clean cut . This push reel mower probably has the widest and tallest range of cutting height that we have come across. With a price tag of about $70 including an attached clippings bag makes this mower quite a frugal choice.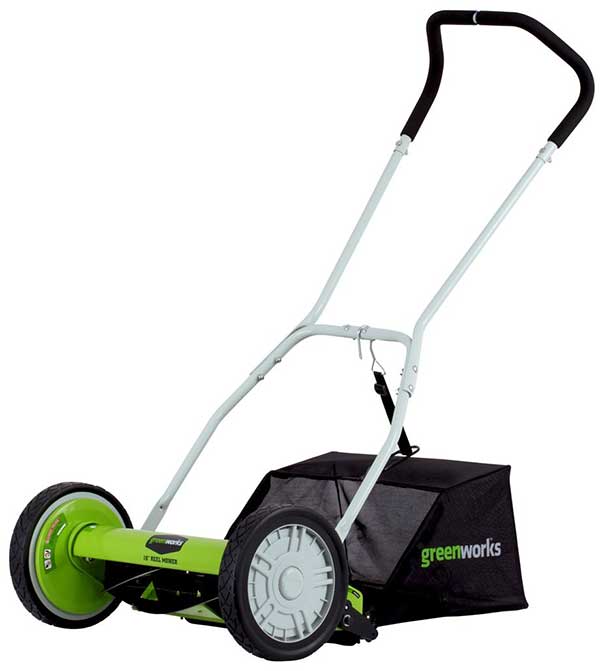 Check Price in Amazon
Key Features:
16" cutting path to cover a wider area faster
2-in-1 feature with included rear bag also allows for mulching
5 blades with 4 point adjustable height ranging from 1.2 to 2.4 inches
10" front wheels with 2" rear rollers for excellent maneuverability
Class leading 4-year warranty
Pros:
Wide cutting reel
Ergonomical design for ease of use
Compact, lightweight and very easy to use and maintain
Attached rear bag included in package
Cons:
The attached rear bag is small and tends to spill over
Not suitable for taller grass and edges
Verdict:
A great choice for the frugal homeowner. A quality product which will effectively perform even in the long run.
Sun Joe MJ500M – Best Manual Reel Mower Under 200
The Sun Joe MJ500M Mow Joe's performance mainly depends on the person behind it like any other push reel mower however it does bring a few design changes to the traditional mower style with a few modern additions as well. Priced at under $70 dollars means it very affordable and it does perform as you would expect it to.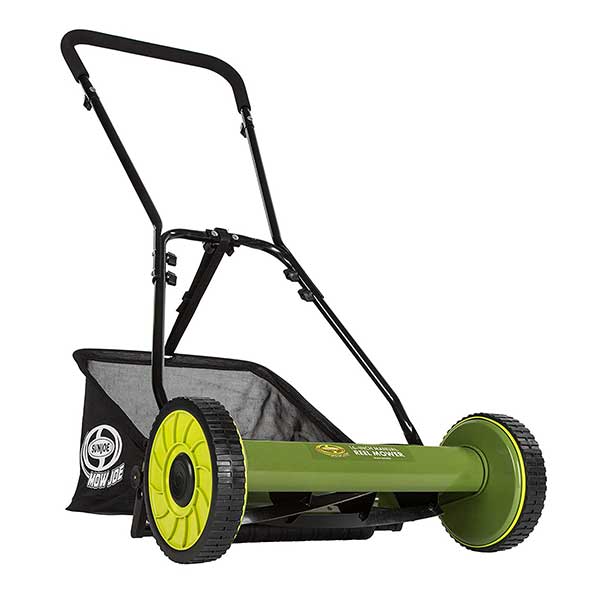 Check Price in Amazon
Key Features:
16" cutting reel with 5 steel blades
4 point height adjustment setting upto 1.81"
light weight at only 22 pounds
U shaped foldable comfortable handle for covenient usage and stowage
6.6 gallon grass catcher included
2 year warranty
Pros:
Lightweight and easy to handle
Comes with 6.6 gallon grass catcher
Low price
Cons:
Build quality feels very low
Very low cutting height settings
Verdict:
A compact, lightweight cost effective lawn mower which works best on flat, dry lawns with fairly short grass.
Fiskars 362050-1001 StaySharp Max – Best 18 Inch Reel Mower Under 200
The Fiskars Staysharp Max is a push reel mower like no other. People who say reel mowers are boring and cheap should think again. An enjoyable design which is 60% easier to push and which boasts of twice the cutting power of other reel mowers does come at a steep price of nearly $190. Well quality doesn't come cheap.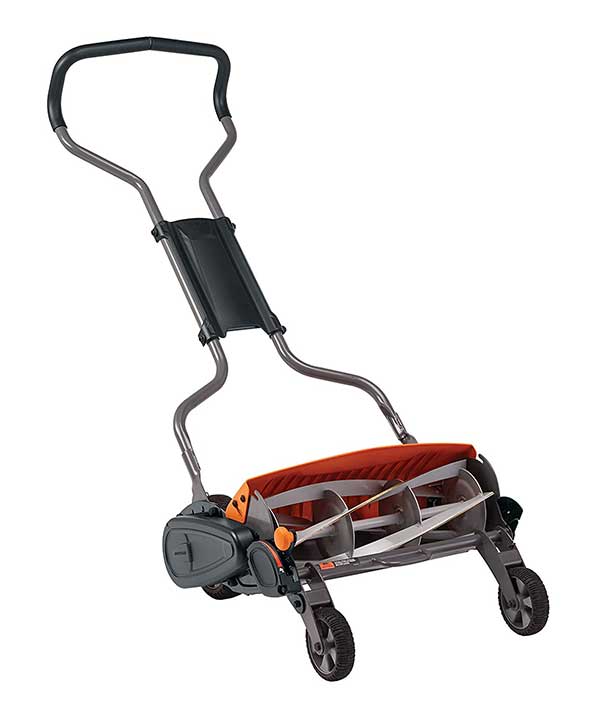 Check Price in Amazon
Key Features:
An 18" wide cutting reel with easy height adjustment from 1 to 4 inches
Ergonomic design for 60% easier pushing
Inertiadrive reel designed for all grass types
Reversible grass chute to divert clippings forward or backward
Inset wheels allow maximum reach for the blades
3 year warranty
Pros:
Easy to assemble
Solid build quality
Very easy to maneuver around landscape features
Widest in category cutting reel
Cons:
Heavy for a push reel mower at 52 pounds
Prices higher than some electric mowers
Verdict:
The Fiskars Staysharp Max reel mower's price does feel like a lot to spend over a small lawn job, however, you can rest assured that it is an investment that will last you a lifetime keeping your lawn in prime condition.
Scotts Outdoor Power Tools 2000-20 – Classic Push Reel Lawn Mower Under 200
One of the most basic offerings on this list and also one of the cheapest at just $62 with one amazing ability that it can handle grass of any height. Weighing just 19 pounds makes it super easy to push around and the 14" inch cutting reel with 5 blades is most definitely up to the task.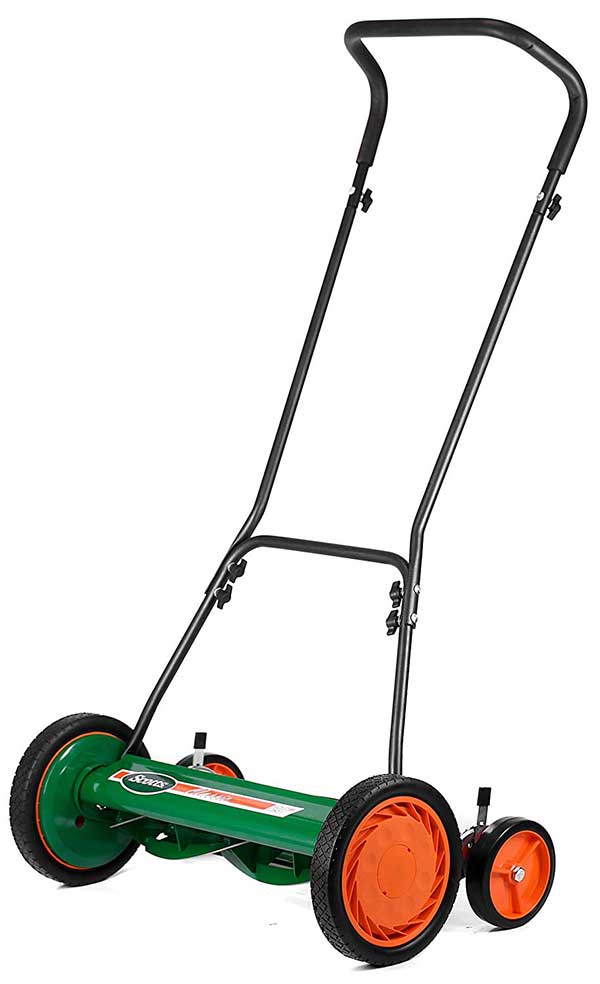 Check Price in Amazon
Key Features:
14" cutting path with height adjustment upto 1.8"
5 Blades made of heat treated alloy steel
T shaped handle with cushion grip for comfortable use
Lightweight and easy to lug around
Pros:
Simple and easy to use
Does really well against tall grass for a push reel mower
Very affordable
Cons:
Small size and longer work time
Verdict:
A great option for small gardens with varied grass for homeowners on a tight budget. Simply does what its meant to do, cut grass.
BLACK+DECKER MM2000 – Electric Walk-Behind Push Mower Under 200
Beyond a doubt the B&D MM2000 is the most powerful electric mower under $200. Equipped with a 13 amp motor and a 20" wide cutting deck along with all the features that you would expect from a mower in this category the MM2000 is a top contender for the spot of best lawn mower under $200.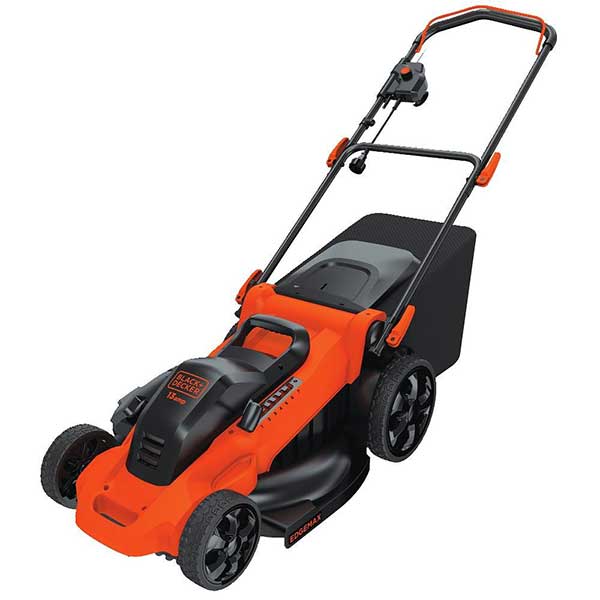 Check Price in Amazon
Key Features:
13 Amp motor provides amazing power for tackling the toughest of lawns
Wide 20" cutting deck with 3-in-1 clippings disposal
7 point height adjustable settings from 1.5 to 4 inches
EdgeMax technology allows for cutting close to edges of fences and flower beds
Easily adjustable handle with a convenient carry handle makes it very easy to move around
Lightweight at just 47 pounds for good maneuverability
2 year warranty
Pros:
Very effective close to the edges
Finely mulches grass for better utilization
Ample of power on demand
Big 13 gallon clipping bag
Cons:
Lots of plastic parts make it feel less durable
Most expensive in the list
Verdict:
This powerhouse of a lawn mower can tackle small to medium lawn jobs with utmost ease. With a quality assured brand like Black & Decker you wont regret a few extra dollars spent on an excellent product.
Best Lawn Mower Under $200 Buying guide
Check our lawn mower buying guide.
Conclusion:
Thats our list of contenders for best lawn mower under $200 and as you can see there is a buffet of options in front of you to pick from to match your needs and budget. You can broadly bifurcate them into 2 categories of Push Reel mowers and Electric Corded mowers respectively.
Check out our reviewed Best Lawn Mower Under 300
Push reel mowers work great on small gardens and lawns whereas their electric motorized counterparts can handle a bigger area. So depending on the size of your lawn and your budget, the choice is yours. So here for all the attributes on display, we can pick two for each category to the crown as the best. So if you are looking for a push reel mower our recommendation would be the Greenworks 25052 which strikes the perfect balance between performance and reliability for a very reasonable price. Similarly, for the electric corded mower, we recommend the Greenworks 25022 which is clearly the most bang for the buck mower here.