For the average homeowner buying a riding lawn mower can be a big financial decision. Some of the best brands with the best features can stretch the budget well over the $2500 mark. No need to fret, as there is an option for all sorts of buyers. If you own a yard which is anywhere between 1/2 to 1 acre a budget of under $1500 can throw up a few good options and not to worry as we have done the research for you. Presenting the Troy Bilt 30-Inch Premium Neighborhood Riding Lawn Mower, which is undoubtedly the best riding lawn mower under 1500. Lets see why.
Check out our best pick Riding Lawn Mower Under 1000
Check out our top pick 3 Best Riding Lawn Mower Under 2000
Troy-Bilt Neighborhood Riding Lawn Mower – Best Riding Lawn Mower Under 1500
The Troy-Bilt Neighborhood Riding Lawn Mower is the perfect blend of a standard riding lawn mower and a wide-cut walk behind mower. Its compact size mated with its powerful engine make it nimble to maneuvre and capable of handling the landscaping of a medium sized lawn with slight slopes. Its smaller dimensions also enable it to be stored and maintained easily. Featuring a powerful 382cc OHV engine along with a 6 speed transmission , a 30-inch cutting deck, a 1.3-gallon tank with a fuel sight window, a 5-height adjustable blade with manual power take-off, a 13-inch soft grip steering wheel, and a comfortable mid-back seat with an operator-presence control system makes this little lawn tractor a premium offering in this segment. Troy-Bilt also offers a 2-year limited warranty with extensive coverage to give you the durability and reliability that you should expect.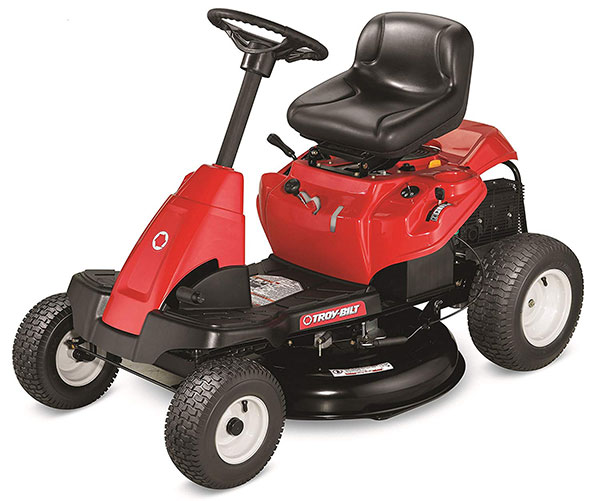 Check Price in Amazon
Features:
Dimensions: 62 x 34 x 26 inches weighing 336 pounds
Body: Painted steel frame and blade deck. Durable plastic body with "Fast Attach" accessories system.
Engine Specs: 382 cc overhead valve rear placed engine with a top forward speed of 4.25 MPH
Transmission: 6 speed Transmission with speed adjust lever located near the steering wheel. Brake peddle which also doubles up as clutch.
Turning Radius: Standard 18 inch turning radius for easy handling.
Cutting Deck: 30 inch cutting deck for a wide and precise cut. Five height adjustable blade and manual power take-off for easy and fast blade engagement. Side discharge enabled with options of addding baggers and mulching kits.
Comfort: Rear placed engine provides a better view of the lawn. A 13 inch soft grip steering with a mid back seat along with 13″ x 5″ front / 16″ x 6.5″ rear makes it a comfortable and stable ride .
Gas Tank: Fuel Capacity of 1.3 gallons with a fuel sight window.
Maintenance: The compact nature of this mower allows it to be stored indoors easily increasing its durability. Equipped with a detachable deck, making it easier to wash it. Troy Bilt also provides a 2 year limited warranty with extensive coverage.
Safety: Operator-presence control system and auto blade shutoff when mower is put in reverse.
Pros:
Small dimensions for easy storage
Powerful engine with 4.25 MPH top speed
Mows pretty well with its 30 inch height adjustable cutting deck
Easy to assemble
"Fast Attach" system for easy installation of accessories
Detachable deck for easy washing and maintenance
Fuel sight window to avoid guessing how much fuel is left
Convenient Step Thru frame to easily enter and exit the mower
Segment best safety features
2 year limited Warranty with extensive coverage
Cons:
Reverse mowing feature is missing but is doable by detaching a little cable under the hood (not recommended for the non tech-savvy).
Body mostly made of plastic. Even though that makes it weather-resistant to a certain extent but it also makes it susceptible to damage and breakage by debris and obstacles like rocks.
Might have a little trouble going up bigger slopes and hills.
FAQs:
Q: Does it have a tow bracket/hitch/connection ?
A: Yes, the bracket comes unassembled and then installed. Perfect for towing around a lawn sweeper.
Q: Is there a bagging attachment for this mower?
A: Yes. Troy Built sells bagging attachments that fits this mower. It has two mesh baskets that are easy to remove and dump.
Q: Is it equipped with a hydrostatic transmission?
A: There is no gear shift, just a lever that goes from P ( for park ) up to 6. The higher the number the faster the mower goes. I don't think this is considered a hydrostatic transmission. You must stop to change speed.
Q: How high does the mower cut?
A: he deck will raise to about 4 inches , each notch on the lever will lower it about 1/2 an inch.
Q: Is there any way to attach a plow to this?
A: No, it is not possible. the same time there is a hitch on the back, it can pull more than 200lbs.
Check Price in Amazon
Buying guide:
Check our Riding Lawn Mower Buying Guide
Conclusion:
To summarize this compact yet powerful riding lawn mower is the perfect choice for a medium sized lawn owner who is looking for an option under $1500. With its precise cutting deck and multitude of features it can proudly wear the crown of the Best Riding Lawn Mower under 1500.
Troy Bilt has been landscaping the future of lawn mowing for over 75 years with their range of top notch machines that provide the user with a sense of reliability when getting the job done. Troy Bilt , with its world class lineup of products and its strong commitment to the landscaping community has built a brand that you can trust. So with the Troy Bilt Neighborhood Riding Lawn Mower you can rest assured that you have made the right choice.