No other tool can match the time and energy, a riding lawn mower's speed, power and overall performance can save for a lawn-care professional or even a homeowner overwhelmed by keeping up with an exceptionally large or hilly lawn. These little tractors are ideal for grooming massive areas of grass in no time at all.
While choosing a lawn mower certain points must be kept in mind like speed for quick work , size of cutting deck to cover more area, turning radius especially if your yard has a lot of trees and rocks, engine placement considering larger engines positioned upfront outperform their rear engine counterparts and transmission where manual can save you a little fuel but an automatic is just more convenient.
Check out our best pick Riding Lawn Mower Under 1000
Check out our best pick Riding Lawn Mower Under 1500
Keeping these points in mind and setting the budget to under 2000 we have handpicked our 3 contenders and pitted them against each other in this 3 way shootout to see which one is the best riding lawn mower under 2000.
Troy-Bilt 540cc Automatic 46-Inch Riding Lawn Mower Under 2000
First up we have the troy bilt tb46 which is equipped with a 540cc single cylinder briggs and stratton intek engine which churns out 19bhp of power mated with an automatic CVT transmission .
This heavy-duty lawn tractor is 520 pounds and has dimensions of 69.8" x 46" x 35.5".
A 46 inch durable deck rider with reverse mowing capability, side discharge and a manual power take off make it an ideal choice even for the toughest lawn jobs.
The 15"x6" front and 20"x8" rear wheels with 18" turning radius gives it great maneuverability.
A comfortable mid back seat with its patented soft touch steering and easy access step thru frame allows you to work on large lawns with ease and comfort. An ideal choice for yards over half an acre.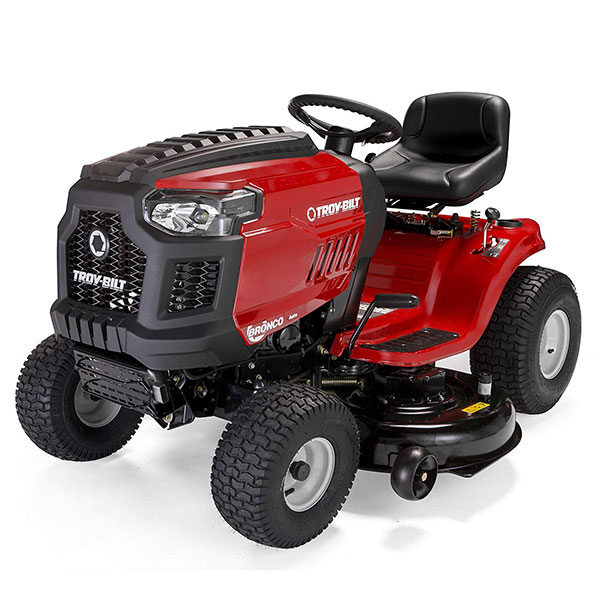 Check Price in Amazon
Pros

5.2 MPH top speed
Fender mounted gear lever
5 position height adjustable cutting deck
Optional snow blade
Deck wash feature
Comfortable mid back seat
2 year warranty
Cons
The suspension is lacking
Single slow speed in reverse
Steering can get a little loose
FAQs
Q: Can you attach a snow plow to the front?
A: Yes.
Q: Does it have place to attach a garden cart ?
A: Yes it does.
Q: Will this mower mulch?
A: Yes with the mulching kit attachment.
All in all a beast of a machine which can cut the grass of a quarter-acre lawn in around 20 minutes. With the reliable Briggs and Stratton engine inside you can be sure to see a flawless performance on more than a ½ acre of lawns. Although when compared to a hydrostatic transmission the CVT might feel a little jerky and slow especially in reverse but definitely not a deal breaker.
Craftsman T150 19 HP 46-Inch Gas Powered Riding Lawn Mower Under 2000
Next up we have the Craftsman T150 which is fitted with the same 540cc single cylinder Briggs and Stratton intek engine which makes 19bhp as in the Troy Bilt TB46. What gives it a slight edge here is the transmission which is an automatic hydrostatic transmission .
Weighing in at 490 pounds its has dimensions of 70" x 51" x 35.5".
46-in reinforced stamped steel deck makes it extra durable and with reverse mowing, side discharge and optional mulching kits its also very efficient.
15×6 front and 20×8 rear wheels with 18" turning radius to maneuver over and around objects with ease.
Mid-back seat for comfort accommodates users of different heights and the step thru frame gives easy access in and out of the mower.
Check Price in Amazon
Pros

5.5 MPH top speed even in reverse
Hand-controlled hydrostatic transmission
Optional mulching kit available
5 positions adjustable deck with twin blades
Comfortable mid back seat
Two-year manufacturer warranty
Cons

1.3 gallons gas tank
Bigger dimensions needing more storage space
FAQs
Q: Does it have an hour meter?
A: No
Q: How well does it do on small inclines and uneven terrains?
A: Designed and approved to safely operate on slopes up to a maximum of 15 degrees of incline. This mower will work great on uneven terrain as well.
Q: How do you change speeds?
A: Speeds are changed by simply moving the gear lever to the forward or backward position. You must take your foot off the brake to get the mower in gear. Except for the brake, you don't use your feet at all.
When you've got a big 2 acre yard with tons of tall grass and weeds, this Craftsman riding lawn mower is up for the job. With a similar engine but now mated with a hydrostatic transmission gives it a smoother and more comfortable ride. Being slightly bigger one would need a little more stowing space but it handles just as good on any terrain.
Husqvarna YTH20K42 20HP 725cc 42 inch Lawn Tractor Under 2000
The final contender for the crown of the best riding lawn mower under 2000 is the Husqvarna YTH20K42. Equipped with the Kohler 7000 Series V twin OHV engine which makes 20bhp along with a pedal operated hydrostatic automatic transmission.
With Dimensions of 60"x50"x50" and weight of 590 pounds it is the smallest but heaviest of the three mowers.
The 42 inch stamped cutting deck is reinforced with heavy flat-stock steel for added strength and durability on the leading edge and trim side and is equipped with a deck wash port making it easier to clean the underside of the deck.
Heavy cast iron front axle provides superior balance and stability and large, wide rear tires provide
improved traction and have less risk of damaging delicate ground.
The high back seat offers added comfort and support while mowing. Can be supplemented with armrests.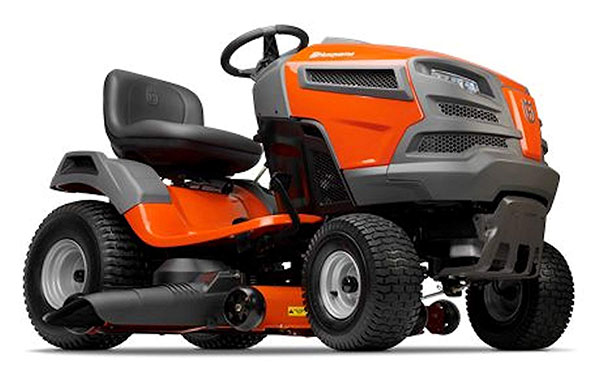 Check Price in Amazon
Pros

Powerful 20hp vtwin engine
Pedal operated hydrostatic transmission
Cruise control
6 position adjustable deck with 2 blades
Deck wash port
Slide adjustable high back seat
Convenient fender mounted deck lever
Hour meter with service minder
Powder-coated cutting deck
Cons
Smaller 42 inch cutting path
FAQs
Q: Is the engine a twin or a single cylinder?
A: It is a twin cylinder engine.
Q: What is the standard Warranty?
A: The mower comes with a standard 3 year consumer warranty which will be covered by Husqvarna directly.
Q: What is the fuel capacity?
A: It has a 2.5 gallon fuel tank.
Husqvarna's lawn tractors offer amazing performance with quality results. Their compact size makes them easy to maneuver and require less space for storage. Pedal operated transmission allows you to move forward and reverse at your wanted speed all the while keeping your hands free to steer for optimal driving control . The smaller 42inch deck makes it ideal for half to one acre lawns.
Buying Guide:
Check our Riding Lawn Mower Buying Guide
Conclusion
So as you can see all 3 mowers are powerful machines capable of doing the job with utmost ease and efficiency. It all boils down to what the user requires. For bigger lawns of upto 2 acres it would be better to opt for the 46 inch cutting decks of the Troy Bilt TB46 or the Craftsman T150 . If you have limited storage space the smaller Husqvarna would be a better choice . If you are looking to operate over rough terrain the Troy Bilt TB46 would be your best bet .
But if we have to pick one that can be called the best riding lawn mower under 2000 it would be the Husqvarna YTH20K42. The husqvarna is the most bang for the buck, feature loaded lawn mower here and is definitely the prime choice amongst the three.