Self propelled lawn mowers are the most popular and highest selling type of lawn mower in the market today. That is undoubtedly due to their ease of use, wide array of options for all sorts of users and affordability. A self propelled lawn mower gets you moving with less effort on your part making a chore like trimming your lawn nothing more than a walk in the park. Ideally, these mowers cost anywhere between $200 to $600 with some really good options in the $300 to $400 segment. Keeping that in mind we decided to test and find out which mower can be dubbed the best self propelled lawn mower under 300 dollar.
After quite a lot of deliberation, we were able to shortlist 7 options that would contest for the top spot. Through this article, we're going to detail the features that each of these self propelled lawn mowers have to offer and give you reviews to help you make the right choice.
PowerSmart DB8620 20 inch 3-in-1 196cc – Best Self Propelled Lawn Mower Under 300

A compact and speedy gas powered lawn mower for small to medium-sized yards is probably the best way to describe PowerSmart's DB8620 gas-powered machine that runs on self-propelled power. At a slim and trim 86 pounds, the mower slips in and out of tight areas nicely. The rear-wheel drive gives it a boost on terrain that's uneven or not to your liking. The single front caster wheel makes turning and handling as easy as pie.
The DB8620 is a 3-in-1 which includes bagging, side discharge, and mulching options, and in fact, its deep-dome deck combined with a sharp, durable blade produces some finely chopped up mulch that works great as natural fertilizer. The 20-inch cutting deck does a good job, and you can adjust the cutting height from 1.18 to 3.15 inches depending on conditions. Its eaasy to start, just pull the start cord and you are ready to go, no choke or throttles to deal with.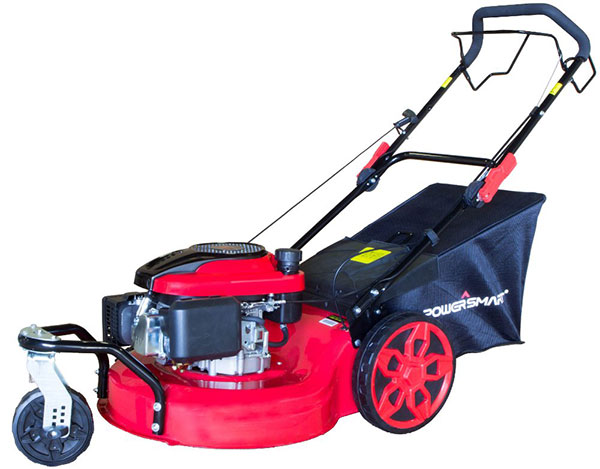 Check Price in Amazon
Key Features:
Powerful 196cc 4 stroke, gas powered engine with a recoil start and forced air cooling system making 7.7 ft-lb of torque
20 inch wide cutting deck with 8 position height adjustment helping it to easily cut grass, weeds, and overgrowth
Efficient pull cord starting for quick starts
3-in-1 bag, side discharge, and mulching capability
Large rear mounted 18 Gallon container with easy release
.9 gallon fuel tank
compact size with dimensions of 32 x 22 x 17 inches weighing in at 86 pounds makes it easy to handle as well as store.
Pros:
Easy to start
Powerful engine
Rear wheel drive
Large bagging container
Lightweight and well designed for great handling
Zero turn capability thanks to the front caster wheel
Blade override for user safety
Cons:
Front caster somewhat hard to adjust and tends to get stuck in holes.
Plastic parts tend to break easily
Non-variable speed control
FAQs:
Q: Will the handle fold down for storage?
A: Yes, the connection between the upper and lower handlebars can be loosed in order to fold them forward for easy storage.
Q: Does is work well on rocky terrain with thick weeds?
A: No. It will just get stuck or the front wheel will try to push to the side
Verdict: To put it simply, at just around $300 the Powersmart DB8620 is a very good bargain with it is up to date features powerful engine and ease of use. Keep it on even ground and keep up as you walk behind it and you may have just found one of the best mowers you've ever owned.
Lawn-Boy 17732 – Rear Wheel Drive Best Self Propelled Lawn Mower
The lawn-boy 17732 is designed to make mowing easier. The rear wheel drive, the self-propel design provides power for improved traction and control in all mowing conditions. Weighing in at just 66 pounds makes it one of the lightest mowers in our review. The Lawn-Boy 17732 starts smoothly and the rear-wheel-drive actually handles quite well maintaining an especially sure-footed balance on its respective seven-inch front and eight-inch rear wheels when traversing hills.
The 21-inch Tri-Cut deep dome deck is a tremendous asset. The substantial air flow stands up each blade of grass as tall as possible to enable clean, smooth cuts that leave behind a uniformly tidy finish and finely minced mulch that distributes evenly throughout your lawn for optimal nutrition.
Its foldable handle is another amazing feature of this product making it fairly easy to store. Being 3-in-1 ready with the Tru-Start Commitment and 2-year warranty make it a hassle-free product.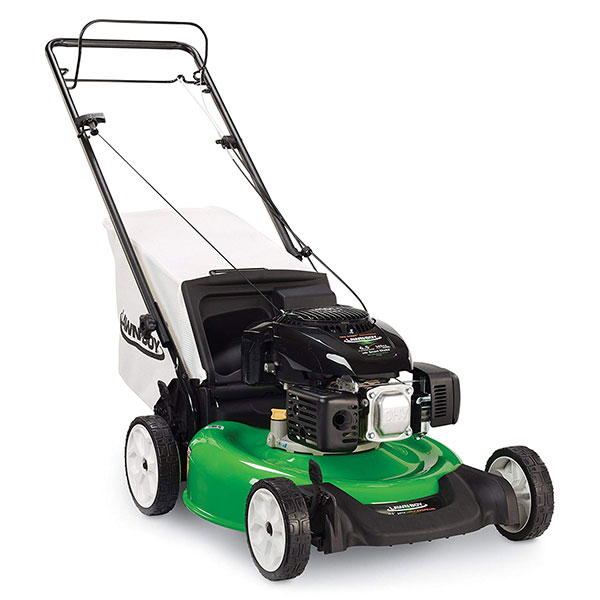 Check Price in Amazon
Key Features:
Rear-wheel drive
Kohler 149cc OHV engine generates 6.5 ft.-lb. of gross torque
Two-point adjustable cutting height
Variable speed control
Steel 21-inch Tri-Cut deep dome deck
Compact dimensions of 40.5 x 22.3 x 37.7 inches weighing only 66 pounds
Change between mulching, bagging and discharging your clippings at will
Tru-Start Commitment: the three-year promise that it starts on the first or second pull or manufacturer will fix it for free and 2-year full warranty
Dual height-adjustment levers in front and back
Pros:
Excellent handling, especially on hills
It is very light in weight and can be moved from one place to another very easily
Bags and mulches with ease
Great cut quality and very easy to use
3-Year Tru-Start Commitment and a 2-Year Full Warranty
Cons:
Small bagging receptical
Front height-adjustment mechanism seems unreliable at times
FAQs:
Q: Is it a 2 stroke or 4 stroke engine?
A: 4 stroke engine
Q: Is it CARB compliant?
A: It is CARB-compliant meeting California sate's rigid standards
Verdict:
Priced under $300 makes it quite a frugal choice. Lawn-Boy 17732 is a powerful mower that anyone can use. With good traction on hills and around obstacles, the Lawn-Boy also provides convenient options for clipping disposal. So if you are looking for a highly efficient yet very economical product, you may want to try the Lawn Boy 17732.
Husqvarna 22 Inch Best Self Propelled Gas Lawn Mower with Briggs & Stratton Engine
The Husqvarna 22-Inch Self-Propelled Gas Lawn Mower can help your lawn to go from an eyesore to standout in no time. This lawn mower employs an all-wheel technology giving users the ability to use it on all sorts of terrain.
It starts up via a handy pull-start system and gives the user tons of control. Options for blade height and mower speed, all while getting that extra push thanks to the self-propelled transmission gives you the lawn your neighbors envy.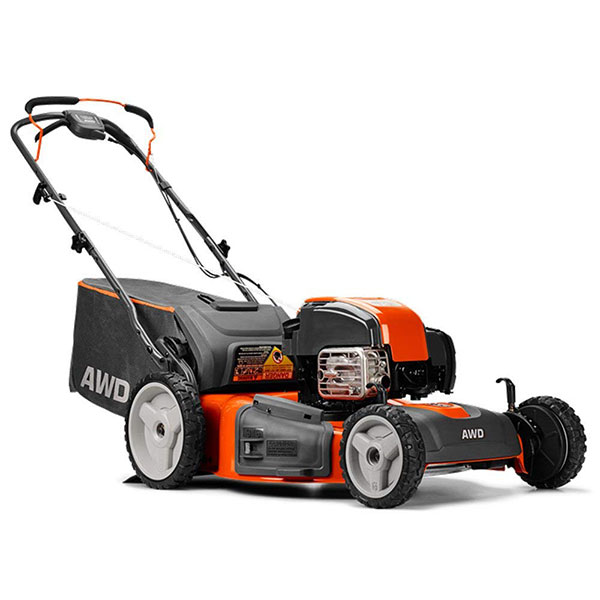 Check Price in Amazon
Key Features:
Powerful 163cc Briggs and Stratton engine making 7.25 ft lb of torque with pull start
9 position adjustable 22 inch cutting deck with max cutting height of 4.02 inches
All-wheel drive technology for maximum control and maneuverability
3-in-1 cutting system offers versatility through several cutting options
Dual trigger controls for variable speed
Ergonomic bag through handle designed for a more natural grip
Dimension: 38.8 x 18.4 x 26.4 inches weighing 99 pounds
3-year limited warranty with more than 8,000 servicing dealers
Pros:
Powerful and reliable engine
Wide variety of cutting height
All wheel drive to tackle any terrain
Dual trigger controls
Deck wash port for easy cleaning
Comfortable handle with a natural grip
3 year Warranty with a nationwide service network
Cons:
Rear discharge for clippings
Heavy weight provides stability but can be cumbersome for prolonged use
FAQs:
Q: Does it come with a side discharge piece?
A: No
Q: Does it have a belt of gear drive?
A: This model has a drive belt.
Verdict:
The Husqvarna is one of the top rated self propelled lawn mowers on sale. It is uniquely designed with an all-wheel-drive functionality, making it very handy if you have a hilly yard. The wide 22-inch swath cuts grass effectively. Priced a little over the $300 mark but worth every penny. Overall, this mower is a nice option, especially for people with hilly yards.
Yard Machines 159cc – Self Propelled Front-Wheel Drive Gas Lawn Mower
The Yard Machines is a powerful 21-Inch is powered by a strong POWERMORE 159cc engine that provides optimum power while its front-wheel, self-propelled transmission system facilitates for quicker mowing. It features a 2-in-1 cutting-system that makes it capable of being used for side-discharge and mulching to accommodate whatever your lawn needs.
The integrated 8-inch wheels make it ideal for use on flat terrain and on small-to-large size yards. The mower is very compact and ergonomic making it very easy to maneuver and store either in your garage or outdoor-closet.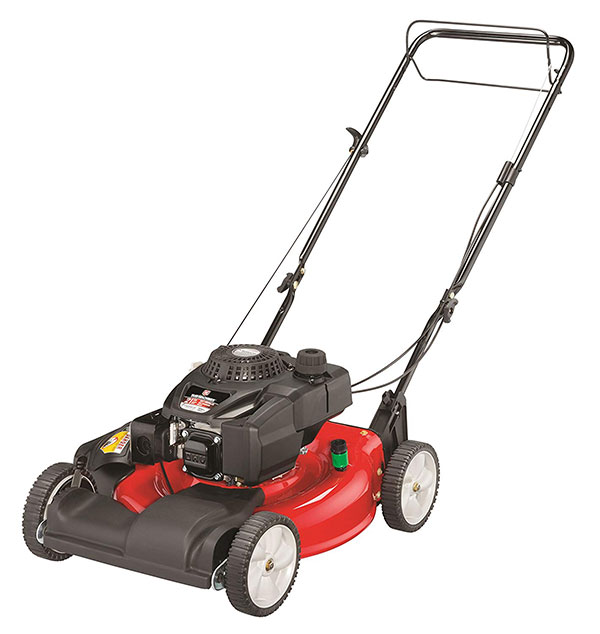 Check Price in Amazon
Key Features:
159cc Powermore engine with front wheel drive transmission
21 inch cutting deck with dual lever height adjustment with 6 positions
2-in-1 feature allows you to opt between side discharge and mulching
Dimensions: 36 x 23 x 17 inches weighing 72 pounds
8 x 8 inch large wheels for smooth turning and easy maneuverability.
2 year limited warranty
Pros:
Powerful engine with autochoke
Dual lever height adjustment
Light weight with large wheels for great handling
Adjustable handle making it easily adjustable for tall and short users.
Compact design for ease of use and stowage
Cons:
Not designed for large yards but ideal for smaller ones
Lacks bagging option
Does not do well on slopes and hilly terrain
FAQs:
Q: Does it come with a mulching shield?
A: There is no shield provided
Q: Is it a 2 or 4 stroke emgine?
A; It is a 4 stroke and starts with the first pull
Verdict:
The Yard Machines 21 inch lawn mower is designed to perfectly mow small-to-medium sized yards. The front wheel drive and powerful engine make it ideal for flat terrain however it suffers on slopes. The $299 price tag is slightly steep for whats on offer here but can be justified with the prompt and efficient performance of this mower.
Greenworks PRO 21-Inch 80V Brushless Cordless Best Rated Self Propelled Lawn Mower
Of all the electric mowers we've tested to date the Greenworks Pro 21″ is probably the best. The PRO-21 was designed to offer a clean and quiet alternative to mowers that utilize fossil fuel burning engines. With an 80V 2AH Li-ion battery and brushless motor, this mower's power is comparable to that of a 160cc gas-powered mower.
21-inch steel deck with 3-in-1 design for mulch, side discharge or rear bag capability is also equipped with Smart Cut load sensing technology that increases the motor speed when the mower passes over tall or dense grass and then decreases the speed whenever it passes over shorter or thinner grass. The battery and charger are sold separately which adds to the overall cost of the mower but still a small price to pay for the environment.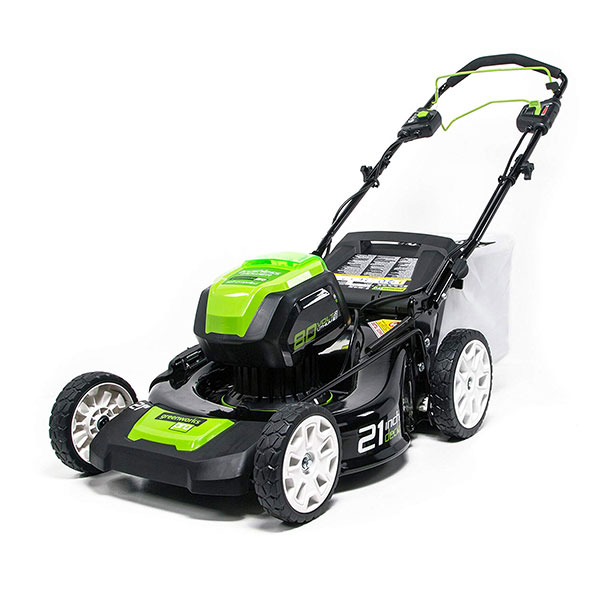 Check Price in Amazon
Key Features:
The dimensions are 32.3" L x 18.2" H x 20.4" Weighing 80 pounds.
Powerful brushless motor delivering a lot of power without heating itself up and wasting the battery's energy.
Convenient push button start with bail operated variable speed transmission
One rear handle that adjusts all its wheels simultaneously
Surprisingly quiet in spite of its power.
21 inch cutting deck with seven height settings
3-in-1 Mulch, rear bag, and side discharge
80V 2AH li-ion battery and rapid charger sold seperately
Pros:
Powerful brushless motor for added efficiency
Very low noise levels
Environment friendly with no emissions
Rear wheel drive for stability on all sorts of terrain
Wide cutting deck with 3-in-1 feature
4 year warranty
Cons:
Battery and charger not included
Expensive
FAQs:
Q: Is it a 5.0 AH or 4.0AH battery?
A: 5.0 AH battery sold seperately
Q: How many watts is the motor?
A: Approximately 1500 Watts
Verdict:
The Greenworks PRO 21 is a great option for those with yards of 1/2 acre or less. If you have a lawn with thinner grass you could probably even get away with 3/4 acre. If you are looking for an environment friendly option but do not want to give up on the power that a gas powered engine provides this lawn mower definitely ticks all the boxes.
EGO 21″ 56-Volt Lithium-Ion Cordless Top Rated Self Propelled Lawn Mower
The second electric mower in our list is definitely no slouch. The 420 wh engine reaching a respectable top mowing speed of 3.6 mph does a decent job even over hills. The 56-volt battery easily lasts for 60 minutes and the v.ariable speeds work well so you can go at your own pace.
The self propelled type with a push-button start at just 68 pounds makes it very easy to use. The 21-inch cutting deck with a single lever 6 position height adjustment system and 3-in-1 options will ensure a neat and tidy lawn. The 5-year warranty provides peace of mind if anything was to go wrong with the mower.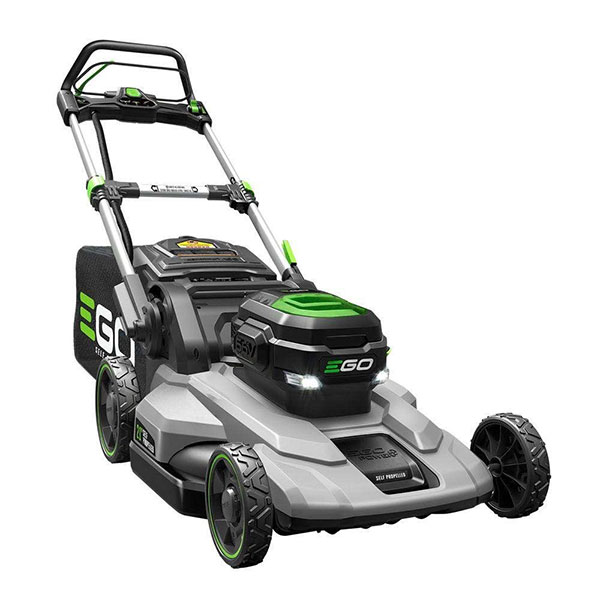 Check Price in Amazon
Key Features:
Dimensions: 37.5 x 22.5 x 16.6 inches weighing 68 pounds gives compact structure
420 wh motor with weather resistant frame for great all weather performance
21 inch wide cutting deck with 6 position height adjustment
Side discharge, bagging and mulching capability
7 inch front and 9 inch rear high wheels for better traction
High capacity 7.5Ah ARC Lithium battery and charger sold seperately
Pros:
Easy push button start
Single adjuster for all wheels
Noise level is 30 db lower than gas powered mowers
Environment friendly no emissions
High capacity 7.5Ah ARC Lithium battery
Has LED lights for night or early morning mowing
Cons:
Does not have brushless motor.
Battery and charger sold seperately increasing its cost
Verdict:
The EGO 21 inch is one of the best electric self propelled lawn mowers out there. It is recommended due to its performance, efficiency, ease of use and durability. Priced at close to $400 dollars that too without the battery makes it a little expensive but you would not mind the extra cost considering the amount you save on gas.
Honda HRR216K9VKA 3-in-1 Variable Speed Self-Propelled Gas Mower with Auto Choke
The Honda HRR is the best rated self propelled lawn mower that we have on review here. Honda lawn mowers are seen as some of the most durable, long lasting, high performing lawn mowers available today and the HRR is no exception. The reliable and resilient GCV160cc Honda engine with auto choke and easy pull start mated to an automatic variable speed control system called "Smart Drive" gives this mower the edge over its competitors in terms of performance.
The 22inch wide solid steel mowing deck with Honda's patented Micro-cut Twin Blades and 6 position height adjustment aided by its 3-in-1 features does the job with precision. The Zone Start Safety System which kills the engine when you let go of the flywheel lever makes sure to keep you safe from any mishaps. Honda makes some of the finest machines in the industry and with the HRR it is good to see Honda putting their all into the game.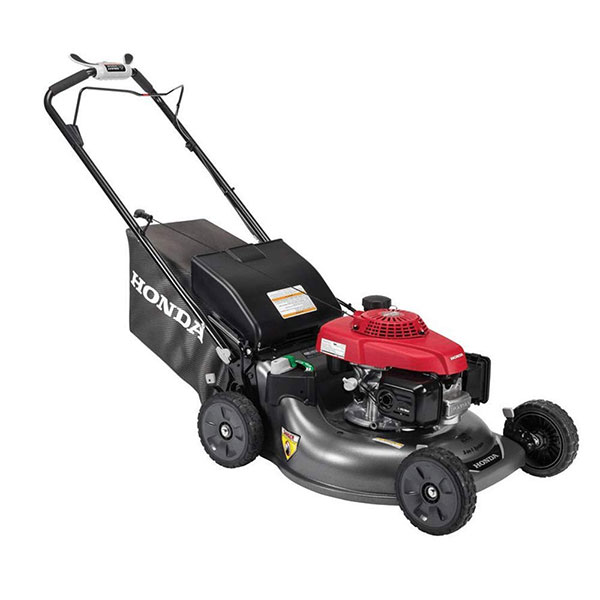 Check Price in Amazon
Key Features:
Reliable and powerful 160cc Honda GCV engine
Rear wheel drive with 8-inch Ball Bearing Wheels to handle any task that comes it's way
Smart Drive variable speed controlled by pressing on the handle
Wide 22 inch solid steel cutting deck with 6 position height adjustment
Patented Micro-cut Twin Blades for a sharp and well-maintained lawn
3 year limited warranty
Compact dimensions of 62 x 38.2 x 23 inches weighing 84 pounds with 2 positions foldable handle for easy storage
Pros:
Durable and Reliable with solid steel deck and Honda engine
The wide 22inch mowing deck
Twin blades for a superior cut
3 in 1 Clip Director to easily shift from bagging to mulching with one touch of a switch
Very easy to use, no Tools or attachments needed
With Smart Drive, the 5 gears can be switched on the go at the touch of a button
Blade and Engine override for safe usage
Cons:
Pricier than the competition
No side discharge option
FAQs:
Q: How well does it handle tall thick grass?
A: t handles tall grass beautifully. No issues at all.
Q: Are the wheels plastic or rubber?
A: The wheels on this model are hard rubber.
Verdict:
The Honda HRR216K9VKA self propelled lawn mower's reliability and overall solid cutting performance have earned it one of our highest value scores. Priced a little above its competition does make it expensive however you would not mind shelling out a few more dollars for the many innovative features that this Honda has to make this mower operable by anyone.
Conclusion:
So there you have it the best self propelled lawn mowers reviewed and as you can see there is something here for everybody. If you prefer a wide cutting path with great power and durability and are willing to increase your budget a little the Honda and the Husqvarna are probably the best choice for you, although with the multitude of features that Honda provides it tips the scales in its favor. The Greenworks PRO 21 would be the ideal choice for the environment-friendly buyers and if you own a small lawn with a few obstacles and mounds the power smart or the lawn boy is for you.
Well that's our opinion anyway, and if you still can't make up your mind you can check out our Buying Guide for the best self propelled lawn mower. With this guide, you can get a good understanding of what to look for in a low-cost self propelled lawn mower and make the right choice for you.
Self Propelled Lawn Mower Buying Guide
The self propelled lawn mower is the most popular choice amongst homeowners and lawn enthusiasts with more than 5 million units sold every year in America. Lawn mowers come in all shapes and sizes with loads of features and at varied prices. So which one is the best for you? This question can stump many a buyers. Our Self Propelled Lawn Mower Buying Guide will help you make that decision especially if you are looking for a mower under $300.
In this guide we have compiled the basic features that are a must have for any self propelled lawn mower in this segment along with a few maintenance tips and also why we think a self propelled lawn mower is better than the others out there. So lets dive right in.
Engine and Size of Cutting Deck with regards to Lawn Size:
Self propelled walk behind mowers are best suited for small to medium sized lawns of 1/4 to 1/2 and acre. If you are blessed with thinner grass these mowers might even cover a 3/4 acre lawn perfectly. Accordingly you need to pick the engine and cutting deck size.
Engines generally range from 140cc to 190cc with bigger definitely being better. The more the power the faster the engine and the quicker you get the job done. Preferably choose a trusted brand like Briggs and Stratton or Honda with an Overhead Valve setup. You might have to pay a little more but you get better fuel economy, lesser emissions, lower vibrations and quieter mowing experience.
The cutting deck would range from 20 to 22 inches . So if your lawn job entails a bigger lawn you might want a bigger cutting path. Features like height adjustable deck, twin blades and 3-in-1 capabilities of bagging, mulching and side discharge are somethings to look out for.
Drive:
When looking through the different models you will come across Front Wheel, Rear Wheel and All Wheel drive (AWD) options. All these have their respective benefits and are also priced with front wheel being the cheapest and AWD being the priciest. If your lawn comprises of mostly flat and even surfaces a front wheel drive would suffice. A rear wheel drive works great when dealing with slopes and hilly terrain and an AWD transmission is an allrounder and can handle all sorts of lawns if you are willing to pay the higher price. The rear wheel drive is the most common type out there and is great for most lawn jobs.
Variable Speed Transmission:
Variable speed settings will enable you to go faster or slower depending on the conditions of your lawn. Adjustable speeds tend to deliver a more precise cut as compared to set or one speed mowers which may go too fast to cut tall or thick grass evenly. Choosing a lever-operated drive (like a bike brake) is great for maneuvering around obstacles whereas a bail (metal Rod) system is better for wide open areas.
Gas or Electric:
Today we all want to get our work done quickly and efficiently but we also think about our carbon footprint. The mower that you choose can be gas or Electric powered. Gas powered engines are generally more powerful and can do the job faster than their electric counterpart.
Electric mowers are definitely more environment friendy being cleaner and quieter. You can choose between wired or battery operated ones. Wired, for obvious reasons, have a limited range and can make maneuvering very inconvenient. Battery operated mowers can generally give you a good hour worth of power and with a quick charger can charge up again in about 30 to 40 mins.
However there are certain drawbacks as most electric mower batteries are sold seperately and that increases the already high price of these machines. Your best bet for a budget under $300 would be a gas powered engine which is tested and compliant with the local emission norms but if u don't mind paying extra for saving the planet an electric mower is just perfect.
Added Features:
There are certain extra features which are definitely an added bonus and can make your mower easier and more pleasant to use
Gas tank/Battery size: bigger size meaning more range.
Push botton start: is more user friendly than the traditional pull-cord.
Wash-out ports: makes cleaning the underside of the mower a piece of cake.
Blade override: automatically stops the blades and engine if you let go of the lever for better safety
Front caster/swivel wheels: for better maneuverability
Foldable Handle: for easy storage
Warranty: longer the better
In conclusion, You do not need to spend a fortune and can definitely get an amazing self propelled lawn mower under 300 dollar and keeping these basic points in mind should help you make the right decision as to which one suits your purpose.
For additional information and product reviews do check out our post on the best self propelled lawn mower under 300.
Maintenance Tips:
It is very important to regularly maintain your tools if you want them to last longer and serve you better for the many years to come. Here are some tips for you to just do that. The most basic start would be to read the manual which will contain all the essential features and precautions for the proper and safe usage of your mower.
Clean your mower after every other job. Lawn clippings can get everywhere and especially accumulate around the blades reducing performance.Check the air filter every few weeks and clean or replace when needed as a clogged air filter can put stress on the engine.
Change the oil at regular intervals to get the optimum performance out of your engine. It is also recommended to replace your spark plug every season to gain better fuel economy. A sharp blade will do a better and faster job than a dull one. Dull blades can rip out the grass from its root leaving scalped sections of dirt. It would be ideal to sharpen the blades twice every season for best results.
Please read the manual that comes along with the mower. It will guide you with all you need to know about your machine and how to keep it alive and kicking.
Self Propelled vs other types of mowers:
Self propelled lawn mowers can save you a lot of time and energy. The variable speeds of a self propelled mower can help you get a neater cut as compared to a push mower which would require a lot more effort for similar results. Self propelled mowers are easily faster than push mowers getting work done much quicker.
Self Propelled mowers are heavier than push mowers due to the propulsion gearbox. Although the extra weight might feel cumbersome at first the added stability it provides will soon make life easy when maneuvering at higher speeds.
Self propelled mowers have bigger and more powerful engines and can do a lot more work at any given time. The self propelled mowers are certainly the pricier option but the ease of use and number of features it provides is well worth it.
Considering you are working on a small to medium sized lawn the self propelled mower makes it look easy and on an even lawn, you might manage a larger lawn as well. With a push mower, you could manage the same kind of work however you might run out of gas before your mower does. So as you can see a good self propelled lawn mower would be the perfect choice to keep your lawn looking fabulous and be the pride of your neighborhood.