Working with chainsaws could be dangerous if not used correctly. To be able to prevent unexpected stress and injuries, ensure you're using the greatest potential security gear, right working techniques as well as a modern chainsaw safety features functioning properly.
There are a several things that you should do before you begin working with a chainsaw. Ensure that you keep these rules in mind, if you are working alone:
Park your vehicle in order you could make a speedy departure
Always take a cell phone with you
Inform someone about your working place
Over 40,000 individuals are injured by chainsaws every year. How not to be one of them and how to use chainsaw safely?
Back of the left hand and front left thigh are the two most frequent places for chainsaw injuries.
Facts
At full speed over 600 teeth pass a given point per second
Kickback is one of the main reason for chainsaw injuries.
A chainsaw can moves up to 68 miles/hour
A muffler on a chainsaw can reach up to 900 deg F.
4 steps to chainsaw safety
Eduction
Supervised practice
Planning
And finally operate safely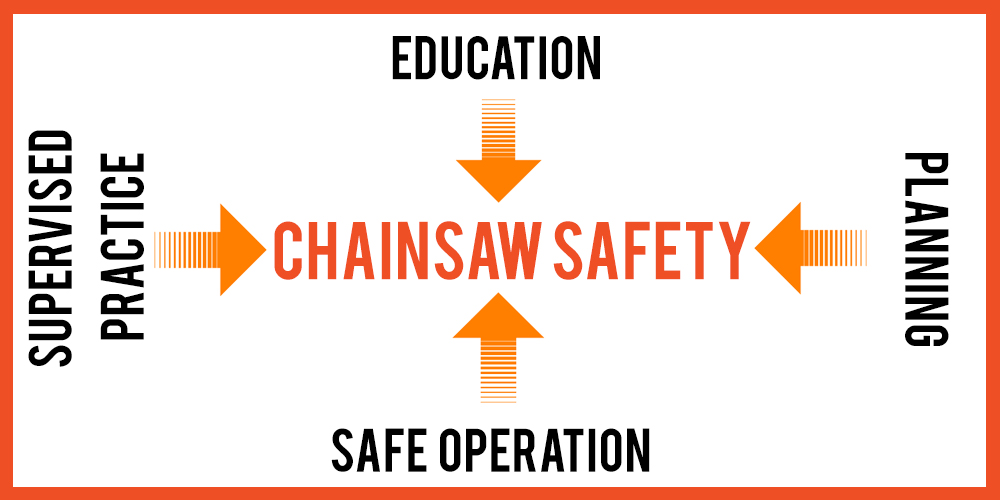 Don't ignore any step. Follow all 4 steps of chainsaw operation for a safer experience.
Get familiar with all the parts of a chainsaw and educate yourself with this safety features:
Low kickback saw chain
Hand guard
Safety tip
Chain break
Vibration reduction system
Spark arrestor on gas powered chainsaws
Trigger lockout
Chain catcher
Bumper spikes
Chainsaw safety features:
If the tool isn't handled correctly or in case of a kickback, the kickback guard and chain brake ensure the chain stops instantly.
The throttle lock is made so that the power saw only functions when you keep pressing a certain button.
The chain catcher stops the chain from flying in case of chain break or derail
The right hand guard safeguards your right hand in case of chain break or derail
The easy accessible stop control allows you to stop the chain immediately
The best way to carry a chainsaw:
The engine needs to be shut off
The chain brake needs to be engaged
The chainsaw is carried backwards
To prevent burns the muffler should be carried away from the body
To prevent cuts the guide bar should be covered
Chainsaw procedures
Starting
Limbing and bucking
Felling
1. Proper starting
Hold the chainsaw properly
Make sure the guide bar is not touching anything.
Make sure the chain brake is engaged.
Use your left hand to grip the front handle
Use your right hand to depress the throttle for a second
As the brake is engaged the chain should not creep forward
The right way to hold a chainsaw
Keep your thumb underneath the bar.
And use your right hand to hold the back handle so you can easily get to the stop switch as well as the accelerator latch.
2. Limbing and bucking:
Limbing means removing branches from fallen tree.
Bucking means cutting a log into sections.
3. Felling
Kinds of cuts:
Conventional cut
Open face cut
How to make a cut correct:
Step1: A felling notch shouldn't exceed 20% of the tree's diameter.
Step2: The hinge is 10% that is left uncut for safety purpose.
Step3: The last step is the felling cut on the opposite side of the tree from the felling notch. But shouldn't go all of the way through the tree.
Kinds of injuries
Kickback
Vibration syndrome
Widowmaker
Entanglement
Stump jump
Setback
Crown Shatter
Barber chain
Moving tree
Springpole
Quick fact: Kickback is one of the greatest cause of injury to chainsaw users.
What is Kickback?
A spinning chain coming in contact with resistance causes kickback
It causes the chainsaw to "kick back" towards your face which is very common and cause serious harm.
How to prevent kickback:
Never cut with the tip of the chainsaw
Lock your front elbow
Don't cut cut through knots or nails i the wood
Stand to the side
Use a low kickback chain
Use a chain brake
Vibration Syndrome:
Vibration syndrome is not very common now-a-days because new technology were invented and most of the latest chainsaw has this anti vibration feature.
Widowmaker:
Widowmaker is caused by the loose branches falling from the tree because of vibrations generated by the chainsaw
How to prevent widomaker injury:
Entanglement:
The tree that you are cutting sometimes may drap or snap other trees.
To prevent this first free the branches of the tree you are cutting.
Stump jump
This can occur by hinge breaking when the tree is falling
The tree can jump and roll or hit other trees in any direction
Have an escape strategy
Turn of the chain saw and escape when the tree starts to move.
Plan an escape path to prevent injuries due to stump hop.
What is Setback?
Occasionally a tree may tilt backward and clamp on the bar of chainsaw
The tree can fall backward if the hinge breaks
It's possible for you to use wedges to ensure the tree will fall over in the right way
It's possible for you to tie rope or a cord in the very top of the tree and use constant pressure
Crown Shatter
This happens if the crown of the tree that has been felled or a closeby tree shatters or snaps.
This causes hurling branches and certainly will cause death or serious harm.
Barber Chain
The butt of the tree can kick backward if the three leans too far when the back cut has been made
This occurs much quicker as opposed to regular reaction time
While cutting never stand in the back of the tree.
Moving tree
A proceeding or rolling tree can catch your legs or destroy you.
This can happen when limbs are removed.
Prevent this just by staying uphill from a tree on a slope.
Springpole
A tree may become arched when it is felled or if another tree falls on it. It may strike out at anything in its path.
Always stay inside the bow of a springpole.
Escaping From Risk
Run at a 45 deg angle from the line of fall of the tree
Preventing injuries
Use Personal protective equipment (PPE).
Make sure you're properly dressed and equipped for the task. This could reduce injuries and stop death from chainsaw injuries significantly. All chainsaws come with some required safety features like chain break. If kickback happens, the inertia of the front guard should activate the chain brake immediately to stop the chain.
The chainsaw harm that is most frequent is an injury that breaks the skin, a laceration. Wearing the right protective clothing minimizes the danger of injuries and laceration harms. Your personal protective gear must always contain the following:
Helmet with protective and earmuffs, visor eyeglasses
Forestry jacket with appropriate upper body coverage
Protective pants
Anti-slip boots
Gloves
Check our top pick chainsaw gloves.
Plan for "on site safely"
When you arrive at the working site, it's time to plan for the felling. To begin with, ensure that nobody is within a space of at least twice the tree height from the tree you plan to fell. Examine the tree to see if it's been damaged by decay or cracks.
Felling direction
Most trees have a natural falling direction. Move away a little to check with a plumb line if you are not sure of the tree lean. You can drive a tree to fall against its natural falling direction, but this requires knowledge, expertise as well as the correct felling support tools. Trees with poor lumber, like decayed or dead trees, should be felled in the easiest direction.
Saw handling
Lastly, here are suggestions for handling the chainsaw. Use your both hand to control chainsaw. Using appropriate techniques will minimize the threat of injury.
Wrap fingers and thumbs fully around the handles and hold your left hand thumb below the front handle to cut back the force of a kickback.
Hold it close to your body to get proper balance and accuracy.
The best functioning posture is with your left foot in front of your right and with your knees, not your back bent.
Stop the chain before you move to another stop.
Ensure on one is within 3 meters when you are cutting.
Safety tips:
Always Keep the chain saw handle dry and clean.
Make sure the handle is free from fuel or oil.
Maintain your chainsaw properly.
Follow the user's manual for maintaining and sharpening the chainsaw
Never try to cut anything other than woods.
Two quick safety tips

Don't hesitate to take a course if you are an absolute beginner. Practicing alone may cause you to learn wrong technique.
Have your gear checked regularly and make sure the safety features are functioning.
How to eliminate some hazards:
Clear loose debris and remove combustible materials from the area.
Look for dead or broken limbs
Make sure there is no power lines nearby
Assure you have an escape path
Be careful about others including people, houses etc
When to call a specialist?
Any time that the scenario demands more skills than you've
If the tree is hollow, dead or rotten
If there isn't enough room to security fell the tree
In case a tree has a greater diameter than the guide bar length
If there are other obstacles to the tree.
Always be careful even if you are an expert.
Wear the right clothing, pay attention to your own environment, and call a professional if you are uncertain to perform the job safely. Be alert and be alive!
10 hints of chainsaw safely
Wear and make use of the personal safety gear that is proper. You'll need boots with steel capped toes, a safety helmet, safety pants or chaps, earmuffs, eye goggles or visor. Don't wear anything that is loose fitting.
Check and make sure everything including the safety features are functional before using.
– The bar is lubricated
– The tension on the chain is correct
– The chain brake is working
– The teeth are sharp
Start the chainsaw on the ground, with nothing obstructing chain and the guide bar.
Plan your cutting job and try never to use a chainsaw when you are alone.
Don't forget to keep a firm with both hands, this reduces the chance of losing your control from the chainsaw kicking back.
Never cut on branches above shoulder height.
There are special techniques used in cutting down a tree on heavy lean. You need to exceptionally cautious. You might want to do a course and learn the techniques.
Ensure that the chainsaw has come into a full stop before putting it on the ground.
A chain should be tensioned properly so that it touches the bar the whole way round else could kickback and may cause an accident. A loose chain also affects the cutting.
Follow the manual for maintenance and sharpening.

General safety rules for handling electric power tools
Work space
Keep your work space nicely lit and clean.
Don't use power tools In the existence of dust, gases, or flammable liquids. Cause power tools can create sparks which might ignite the dust or fumes.
Keep children, bystanders, and visitors away while using a power tool. Distractions may cause you to lose control. Protect others by providing barriers or shields as needed.
Electric safety
Grounded tools have to be plugged into an outlet correctly installed and grounded. If required check with a qualified electrician to ensure the outlet is correctly grounded.
Double Insulated tools are designed to use a polarized plug. Don't alter the plug in any manner.
Avoid body contact with grounded surfaces. Electrician's rubber gloves and footwear will improve your personal safety.
Don't expose power tools in wet conditions or to rain in anyway. Water will raise the risk of electric shock.
Don't abuse the cord. Don't use the cord to carry the tool or to pull the plug. Keep cord from heat, oil etc. Replace the damaged cords immediately.
Use "W-A" or "W" marked extension cords when operating outside. Cause these cords are rated for outside use and decrease the possibility of electric shock.
Personal safety
Remain alert and careful about what you are doing. If you are tired enough, take a break.
Dress correctly. Tend not to wear jewelry or loose clothing. Keep your own hair, clothes, and gloves away from moving parts. Keep handles dry, clean and free from gas and oil.
Avoid unintentional starting. Be sure to switch it off before plugging.
Remove adjusting keys or wrenches before switching the tool on.
Tend not to overreach. Keep appropriate balance constantly to avoid unexpected situations.
Use safety gear like eye and hearing protector, musk, non-skid shoes, helmet etc.
Tool use and care
Support and secure the workpiece to a stable position. You can use clamps or any other thing but don't use your body or hand to hold it. It may cause to lose the control.
Don't force the tool. The right tool is going to get the job done better and safer for which it is designed.
Don't use any tool if the on/off switch is damaged. Repair it before using.
Disconnect the plug from the power source when you are done or making any adjustments in the tool or changing accessories.
Store idle tools out of range of children as well as other untrained individuals.
Maintain your tool properly. Keep the cutting tools clean and sharp.
Check before using if every parts are functioning properly. Many injuries are due to poorly maintained tools.
Use only manufacturer's recommended accessories for your model.