Husqvarna chainsaw is the most popular all the time. Started from Husqvarna 350 chainsaw. Which is outdated now though. We have now husqvarna 460, husqvarna 455 chainsaw etc which are a great combination of price and performance. We will review couple of husqvarna chainsaw those are extremely popular and ruling the market.
Behind Husqvarna's awesome flawless functionality there are years of development and concentrated research. Husqvarna's anti-vibration dampeners absorb vibration. The choke/stop control makes the chainsaw easier to start and it also prevents flooding. One of the latest safety features is a unique manner of stopping the chain fast, the TrioBrake. This not only enhances your safety, but in addition your technique and ergonomics.
Professional performance doesn't always need gas. Husqvarna's battery powered chainsaws are exceptionally efficient and equipped using a strong 36V Li-ion battery pack. These quiet, lightweight and well-balanced eco friendly chainsaws supply up to 10 hours of runtime between charges when combined with back pack batteries. You'll feel comfortable while working for long hours, thanks to the Husqvarna's anti-vibration feature that decreased vibration for longer intervals and stress on wrists, arms and shoulders. Operation costs are quite low.
Husqvarna gas chain saws are designed with the exceptional X-TORQ engine which reduces  fuel consumption and reduces the exhaust emission levels. For homeowners and professionals Husqvarna delivers an enhance and constantly reviewed best chainsaws.
| | | |
| --- | --- | --- |
| | Husqvarna chainsaw 460 rancher 24 inch 60.3cc | Check Price |
| | Husqvarna chainsaw 455 rancher 20 inch 55.5cc | Check Price |
| | Husqvarna chainsaw 450 chainsaw 18 inch 55.2cc | Check Price |
| | Husqvarna chainsaw 445 18 inch 45.7cc | Check Price |
| | Husqvarna chainsaw 440E 16-Inch 40.9cc 2-Stroke X-Torq Gas Powered | Check Price |
| | Husqvarna chainsaw 240 16 inch 38cc | Check Price |
Great tool for the cash up to now. The additional bonus chains make this an excellent purchase. This is a fast-cutting tool, in spite of the 24 inch bar. It starts easily if you maintain it properly and use fresh, stabilized, high octane, low-Ethanol fuel. With the 50:1 premixed TruFuel the saw runs great.
60.3 cc, 3.7 hp
X-Torq engine
Weight 12.8 pounds
Comes with 2 replacement Chains
Combined choke/stop control
The 460 is a bit more quality product that makes it attractive and appealing than the extremely popular 455.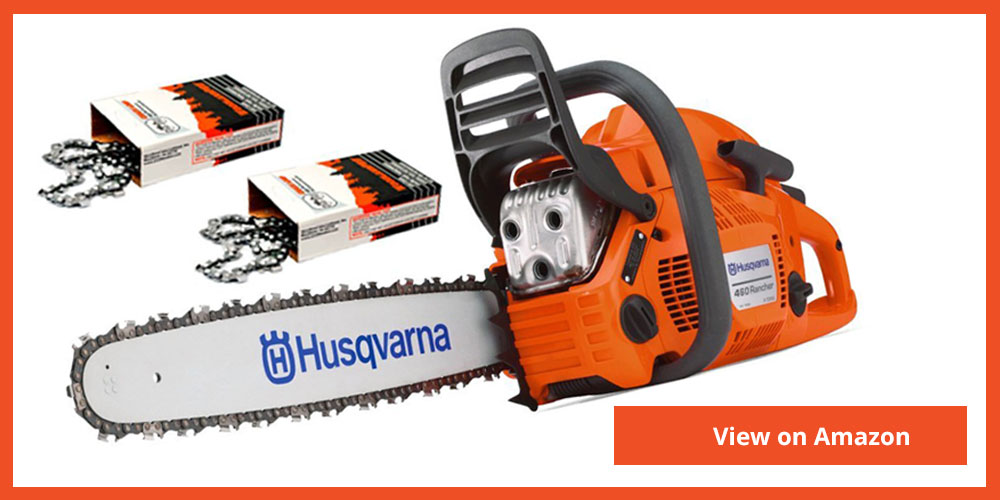 [su_divider divider_color="#ef4f25″]
Husqvarna 455 rancher is a great tool for landowners and part time customers who need a high-powered and heavy-duty chainsaw for all the cutting works. It combines the most effective features of Husqvarna chainsaws that are normal with fresh, easing and biological engineering.
Features:
55.5 CC, 3.5 HP
Weights 12.8 lbs
20 inch chain
Double acting chain brake with right hand guard and chain catcher makes the saw safer
EPA regulations limited the low/hi mixture settings. There are not enough chainsaws running in any specified interval of the day to justify this regulation. If you're a casual user, actually focus on the break in processes. You should be sure to break them in with additional attention since the tools run lean. In the event you remove the EPA limiters use them much more often and richen the hi/low combination outside, otherwise you'll cook your engine.
Husqvarna 455 is a great tool and simple to use and maintain. Husqvarna 455 rancher parts like clutch, spark plug, the air filter, casing etc are available. It starts easy just "pops" after a few short and quick pulls. But don't forget to un-choke and pull it again after the tool "pops" with the choke. You don't have to warm a two stroke like a 4 stroke engine.
The chisel chains  of Husqvarna 455 rancher is excellent  and do great for heavy cutting jobs. But be mindful of kickback with such design chains. You can order and replace the husqvarna 455 rancher chain with low-kick oregon chain for from any dealer. It is all a question of individual preference and expertise.
Pros:
Easy to start
Intuitive to utilize
Comes with 2 WoodlandPRO replacement Chains
If compared to Stihl, Husqvarna 455 rancher is simpler to begin, has fewer issues and is more affordable
Cons:
This is couple of pound extra heavier compared to others
No X torq on the Husqvarna 455 Rancher
FAQ:
Question: Is this a professional grade saw?
Answer: Yes it is.
Question: How much oil do I need to mix with a gallon of gas
Answer: 3 ozs.
Question: What's the biggest bar size I can use on this particular chain saw?
Answer: 24"
[su_divider divider_color="#ef4f25″]
Husqvarna 450 chainsaw is a powerful 18 inch gas powered chain saw which is designed to fit the needs of homeowners and landowners and others who cut less frequently. Equipped with fuel pump and Smart Start, and easy to operate. In addition, it has an ergonomic layout plus built-in Husqvarna chainsaw features like a strong X-Torq as well as air injection technology engine with low emissions.
Features:
50.2 cc, 3.2 hp
X-Torq engine means best use of the fuel
Reduced emission levels
Maximum RPM 9,000
Lightweight – 10.8-pound
Comes with 2 WoodlandPRO replacement Chains
Husqvarna 450 chainsaw produces 3.2 hp, making it well-suited for med level jobs like pruning and domestic cutting. With X-Torq engine it reduces emission levels up to 60% and hence saves fuel up to 30%.
Durable Engine Assembled for Long Life. The engine of the Husqvarna 450 is constructed to withstand years of use. It uses a three piece crankshaft, that compressed and has been shaped for exceptional durability. In addition, the centrifugal air cleaning system of the chainsaw helps maintain engine life by removing dangerous debris before it reaches the filter.
Simple, Effortless Startup. With the Husqvarna 450 chainsaw, you will not have to waste precious minutes attempting to start the engine. Husqvarna's Smart Start has starter and an engine that starts immediately with minimal exertion with resistance in the starter wire reduced by up to 40%. It has a particularly optimized fuel pump, which helps and keeps the fuel lines clear to ease startup.
Ergonomic layout reduces user exhaustion. The Husqvarna 450 chainsaw has a lightweight framework that minimizes stress on your own body, even after prolonged use. Husqvarna's LowVib anti-vibration dampeners shaking your arms and hands, efficiently absorb vibration and letting you work for a long time. And it features a smartly constructed back handle with ergonomic trigger soft inlay, and asymmetrical handle.
The Husqvarna 450 chainsaw has a transparent fuel indicator that makes it simple to check fuel level. Changing the chain is very easy.
[su_divider divider_color="#ef4f25″]
Husqvarna 445 chainsaw is a fresh strong all round tool for individuals who benefit professional attributes in a tool. The X Torq motor means lower energy usage and reduced exhaust levels. Clearly visible fuel level and auto return stop switch makes the handling easy. Smart Start and fuel pump confirm easy starts.
The kit consists the saw and 3 extra chains. The centrifugal air-cleaning method prevents larger dusts and debris particles to enter into the air filter. This leads to decreased air-filter cleanings and enhanced motor life.
45.7cc, 2.8 HP engine
Fast release air filter
Light-weight, just 10.8-pound
Centrifugal air cleaning system
Durable
Equipped with 2 WoodlandPRO alternative Chains
The Husqvarna 445 chainsaw has almost all of the greatest chainsaw characteristics of Husqvarna chainsaw in a package that is comparatively cost-effective. Easy startup in any temperature and weather condition. Easy access to air filter and the spark plug makes is simple to clean and maintain. Husqvarna 445 chainsaw is designed in such a way that bar oil never finishes before fuel run out if you fill both tank at the same time.
Pros:
Excellent saw for the cash.
Husqvarna 445 is lightweight just like smaller chainsaws.
Starts easily and cuts good and is low vibration
Cons:
Only the very first start might be difficult, however, after that Husqvarna 445 will start easily
Recommendation:
Purchase with full confidence.
[su_divider divider_color="#ef4f25″]
Husqvarna chainsaw 440E 16-Inch 40.9cc 2-Stroke X-Torq Gas Powered
Husqvarna 440E is lightweight and the biggest in Husquvarna's "Home-Owner" series but it fits in a mid sized backpack. It might bog down if you lean on it when bar is buried, but for limbing and logs to 14″ it works fantastic. If you are not in rush you can cut logs up to 32″. You can use it as a more powerful tool by investing in a few extra chains, and having them sharpened professionally.
Tool-less chain tensioner
Powerful X-Torq engine for lower fuel consumption
16 inch Bar
Lightweight and easy to start and maneuver
Quick release air filter to ease replacement and cleansing of the filter
Integrated Smart Start technology
The tool-less tensioner is a great feature. You can easily adjust the chain tension with one hand even when you up in a tree without a wrench and screwdriver. A full tank is enough for a couple hours of cutting.
You can use expensive vegetable oil for bar oil that stays liquid in the cold but it's optional. You can use any cheap conventional bar oil without any issue.
People called Husky 440E a "pro-sumer" tool, and we believe that is accurate. You can easily install a 16 inch or even a 18 inch bar.
[su_divider divider_color="#ef4f25″]
Husqvarna 240 chainsawis a great small tool that weighs nothing. Starts well no matter whether the weather is hot or cold, simply do not flood it by pressing the primer bulb too many times. Its really not hard to start it if you read the manual and follow the instructions. A little reading won't hurt you rather will save a lot of time and hassle. Chain adjustment is easy. Use Husqvarna 240 chainsaw for the jobs it's designed. It's not a $500 master tool.
16-inch bar
2 HP, 38 cc engine,  powerful X-Torq engine with low emissions
Weights just 10.3 pounds
Ergonomic design
3/8-inch pitch, .050-inch gauge
Easy to start and operate
Side-mounted chain tensioner
Excellent saw across the home for basic cutting. Use it for small yard work like pruning, lighter cutting tasks and hobby work but if you have requirement for a bigger job get something more powerful than Husqvarna 240 chainsaw. Check the other items above.
[su_youtube_advanced url="https://www.youtube.com/watch?v=Do5DfkHBhtg" width="420″ height="280″ autohide="yes" showinfo="no" rel="no" fs="no" modestbranding="yes"]
How to work with a chainsaw – Tutorial from Husqvarna