The Ryobi Edger Attachment can be attached to a string trimmer, which is an automatic trimmer. With this, an individual can easily and conveniently trim the flowers and plants on their sidewalk and driveway.
The Ryobi Expand-It 8 inch Universal Straight Shaft Edger Attachment allows you to change your string trimmer to an edger. With the attachment, making precise cuts in your driveway or walkway becomes more fun.
All you have to do is link the Ryobi Edger attachment to any of the power heads. After linking, you can adjust the height of the attachment and the cutting depth. Once this is done, you can start your trimming.
Ryobi Edger Attachment – Universal Straight Shaft Edger Attachment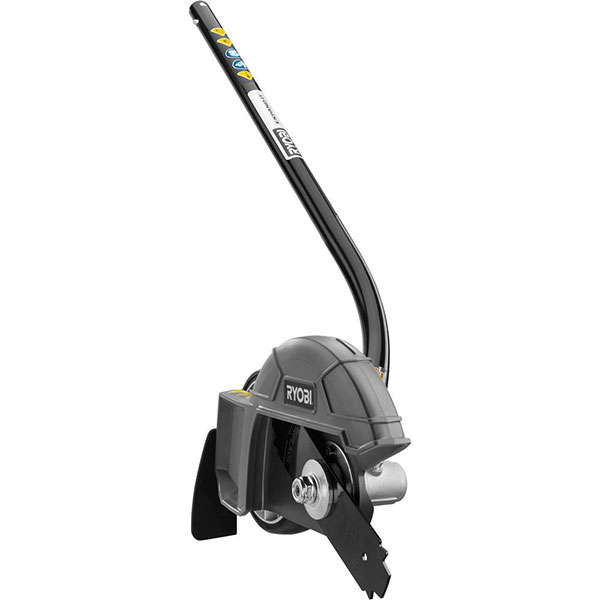 Check Price in Amazon
The tool comes with a warranty of 3 years. The tool is perfect for individuals who regularly or occasionally trim their walkway or for their gardeners.
It is also great for people who have a flower garden that they trim. There are a lot of benefits you stand to gain from using the attachment. They include saving space, saving money and saving time.
The dual serrated edge means you can reverse the blade when one side gets dull. This implies that you can now use the other side which is still sharp to do your work instead of completely changing the blade.
There is also the rubber flap shield that gives you a high level of protection from debris as you work. The product has a dimension of 10 inches x 10 inches x 10 inches.
Features:
8 inches double serrated edge
Can fit into any string trimmer of the same edge
Shield to protect from debris
Does not need adaptors or tools
Big knob that can be used to quickly and easily adjust for height
Limited warranty of 3 years
Pros:
Comes with all required accessories
Universal fit for every power head of the same brand
Light weight of 5 pounds
Durable
Easy to fix and use
Cons:
The edger blade is a bit far from the outside blade edge
Check Price in Amazon
FAQs:
Q:Will the edger attach to my ry40002 power head model?
A:It should. It is a universal brand and should work well with all models of Ryobi power heads.
Q: Can I use for other power heads apart from Ryobi?
A: It works with Poulan Pro Trimmers, Murray, Troy Bilt, Weed Eater, Toro and other brands that build their power heads based on the universal model.
Q: How can I fix the Edger Attachment to my Ryobi Power head?
A: Off the engine and detach the battery or spark plug where they are present.
Loose the power head coupler knob and detach the end cap from the edger attachment.
Push the attachment silver button in.
Then make sure the button aligns with the power head coupler guide recess.
Turn the shaft of the attachment till the button fits into its positioning hole.
You should ensure that the button fits properly in.
If it doesn't, you should continue to rotate slightly from side to side until it does.
Q: How can I detach my Ryobi Power Head from my attachment?
A: Off the engine and detach the battery or spark plug where they are present.
Loose the knob at the point where it is connected
Push the button while twisting the shafts to separate and detach the attachment from the power head.
Planting flowers and other plants with ornamental purposes on our sidewalk is a great way to make our sidewalks look beautiful. Apart from ornamental reasons, another major reason why people plant is to protect from certain harmful animals.
Some plants have been recognized as been able to chase away snakes and other reptiles. When you have plants on your side walk, making them look attractive is also very vital. Plants could easily overgrow and start to create inconveniences.
Stray branches of plants have been known to trip people while they are using the sidewalk. To avoid such scenario, it is best to regularly trim your plants.
People use different tools to trim their plants including the string trimmer. There are 2 major dimension to the use of trimmers. There are the manual ones that require some more energy usage and the automatic one that is easier and faster to use.
There is also the issue of having to bend down to trim which can result in back pain as well as the use of attachments so that even while standing upright, the individual can achieve the same task.
Conclusion:
The Ryobi edger attachment is a great tool for gardeners and DIYs who trim plants on sidewalks and driveways. The tool makes it easier and faster to trim plants.
It also removes the need to bend down while working, which increases stress and could lead to back pain. With this tool, you can now do more work at a lesser time. It also comes with great features that contributes to its usefulness and durability.
These include the dual serrated edge, adjustable length and shield that protects from Debris while working. If you have a Ryobi power head and you want to enjoy it even more, then you should get the attachment as well.