Timberline chainsaw sharpener? Chainsaw sharpening? Why should I worry about it? Ok, you should agree with me that it takes months of practice to sharpen a chainsaw properly and without damaging the chain. And of course the time and effort you need to invest behind it. Manual sharpening still contains errors. And decrease the life span of a chain.
You might be using or thinking about grinder. Really? Grinder removes material from the chain and eventually kills the lifespan. Oh yes, I need to mention grinder also generate heats that tempered the chain and hence the chain will dull again quickly.
Here comes the Timberline chainsaw sharpener with next level of accuracy and precision.
While sharpening a chainsaw, the angle is every important. And you can't achieve the perfect angle while doing it manually with cheap sharpening tools! And cheap tools will cost you more in the long run.
How?
Well, no 1, you will need to buy new chains very often and no 2, if you cut with a dull chain, you will need more time, which will cost more power whether you use gas or electric chainsaw.
Timberline chainsaw sharpener
– guarantees accurate and precise angle
– eliminates human error
And finally, you don't need to remove the chain from the chainsaw!
"The premium grade tungsten carbide cutter is hand turned with a handle, a tiny amount of material is removed from each tooth, giving the chain a longer life. Carbide guides are fixed at a universal 30 degree angle. 25 and 35 degree guides are offered separately."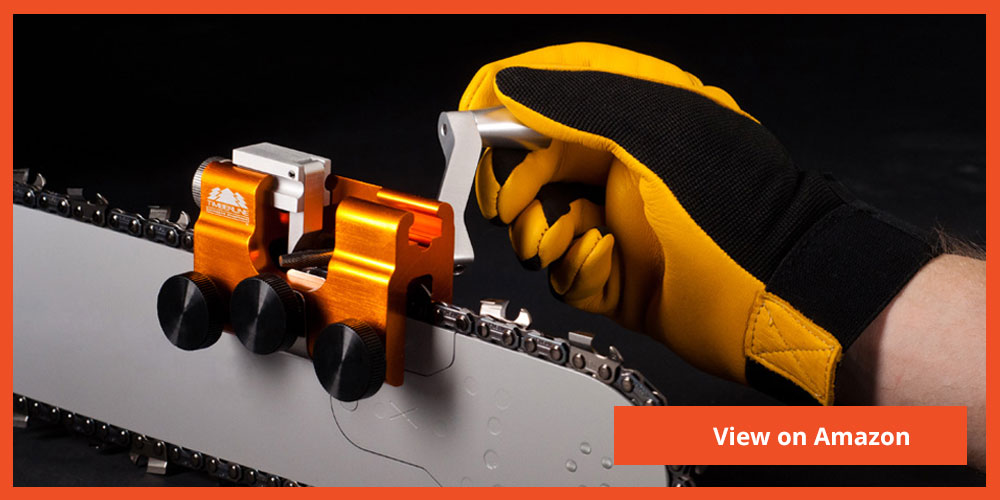 A made in USA product. Works perfectly as advertised. Result is an accurate and razor sharp chain.
Not that expensive and will definitely pay you back in the long run.
You don't need to invest time and do the sharpening in a hard way.
Long life span of the chain also saves money.
As the chain is not heated and tempered, its not getting dull again quickly, that saves electricity and gas by ensuring fast cut.
As most home user don't have the time nor have the expertise, they always prefer to go to the service centre that also costs extra money, car gas and time!
| | | |
| --- | --- | --- |
| | Timberline Chainsaw Sharpener with 3/16 Carbide Cutter (for .325″ pitch chains) | Check Price |
| | Timberline Chainsaw Sharpener with 7/32 Carbide Cutter (for 3/8″ and .404″ pitch chain) | Check Price |
| | Timberline Chainsaw Sharpener with 13/64 Carbide Cutter (for 3/8″ pitch Stihl chains) | Check Price |
| | Timberline Chainsaw Sharpener with 5/32 Carbide Cutter (for 3/8″ P or Picco, low profile, micro pitch chains) | Check Price |
| | Timberline Chainsaw Sharpener with 1/8″ Carbide Cutter (for 1/4″ pitch chains) | Check Price |
Timberline Chainsaw Sharpener Features
Fast: Sharpens each tooth in a second or two! That's fast!
Precise: No human error, each tooth is sharpened at the same angle and length precisely.
Long lasting: Long lasting high quality aluminum.
Portable: Also comes with a nice carrying bag.
Easy to use: Anyone can sharpen a chainsaw accurately and professionally and also no need to remove the chain from the chainsaw
Timberline chainsaw sharpener Benefits
Convenience
You will never need to quit at the middle of a job to find a repair shop or return to your own garage when you strike a stone, nail, or hit the ground. The Timberline Chainsaw Sharpener gives you the instant ability to sharp on the spot.
Save time
After sharpening your chain together with the sharpener first action you'll become aware of is the way much quicker the tool will cut through wood. A chain that is sharp will self-feed to the wood. A dull chain may take minutes to cut through the exact same log and will often tends to bounce off the wood.
Save cash
A sharp chain uses less fuel and energy by increasing cutting efficiency and hence saves fuel/electricity and bar/chain oil.
Safer cutting
Injuries could occur when chains tends to quit cutting as they ought to. A catastrophe can be led to by pushing back on the tool attempting to drive it to cut. Where as a sharp tool cuts in a more predictable way.
How Timberline chainsaw sharpener works and instructions (Video)
Once you make the order and have it at your hand, it will take only a couple of minutes to figure out how it works. The sharpening process is a piece of cake. You might be experienced and an expert with hand sharpening but after using Timberline Sharpener you can't believe the difference. Each and every tooth will be perfectly grounded and razor sharpened. It might take around 20 minutes to sharpen a china when you are using it for the first time. Next time, it won't take more than 10 minutes, we bet.
Watch the video and read the instructions manual. It will work flawlessly. And you can call yourself a pro in chain sharpening.
Most Frequently Asked Questions
Question: Made in?
Answer: USA.
Question: Does it come with a carrying bag?
Answer: Yes, a soft case with 2 zipper pockets.
Question: How does Timberline Chainsaw Sharpener ensure that each tooth is cut to the same length?
Answer: This thing is awesome, with everything being milked to set a certain path, the grinding bit cuts only what it needs to make the chain sharp.
Question: Does it work with any chainsaw or chain. Why we need different carbide size cutters?
Answer: Well, you need different size carbide cutters because all chainsaw chains are not same in size.
This tool work on any chainsaw. You only need to purchase one sharpener and then any size cutter can be used with that one sharpening unit. By default it comes with 1 carbide cutter, the size select while making the order. Later, if you need a different sized cutter you just need to order the carbide cutter, not the sharpener again. No confusion.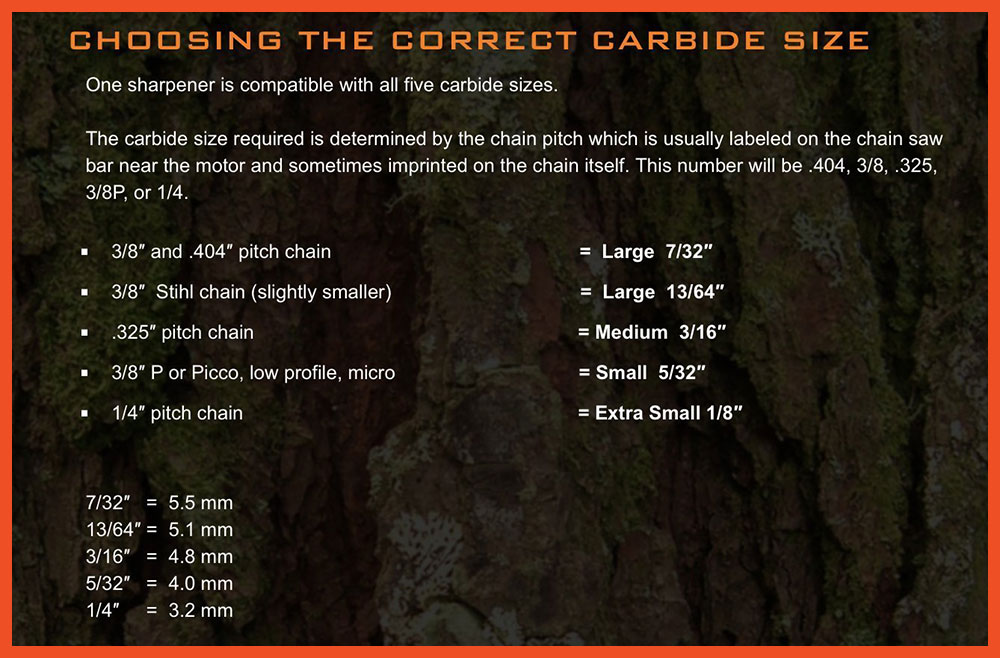 Cons:
Question: Can this be used to sharpen a carbide chisel chain such as woodland for Stihl saws?
Answer: I think finally we get a drawback of Timberline Chainsaw Sharpener! Timberline Sharpener is not compatible with carbide chains because sharpening carbide chains will need a diamond bit.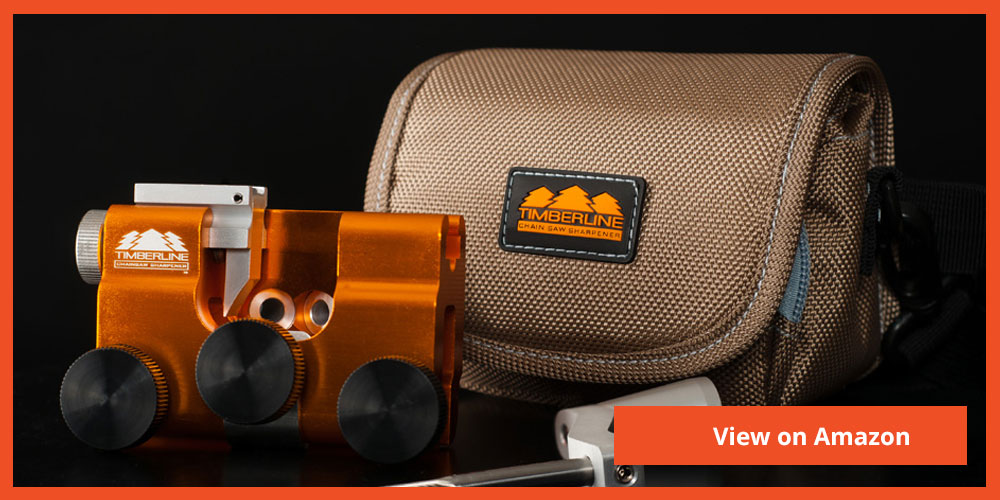 Tips and Tricks
One issue is you need to find the most damaged or shortest tooth first, else the settings will not be consistent, which is the primary advantage of this tool. This is true only for an old chain that was hand filed. If you are sharpening a chain for the first time, then you won't face this issue.It might be good to buy a new chain rather than sharpening a many times hand filed chain as by this you will waste the sharpness of your carbide cutter.
Add oil: Just a drop of oil (you can even use the bar oil) on the carbide shaft to keep the carbide spinning easily in the guides.
Level sharpener: Not leveling the Timberline sharpener properly on the bar is the most common mistakes users make on the first try.
Final Words – Very Recommended
It's ok if you hesitate a little to order as the timberline chainsaw sharpener price is a bit high but its a good invest, that will save your time, energy and money as you go. Worth the price. Extremely well built, portable. No cheap plastic parts or motor or anything to break.  You will be very satisfied. Very Recommended. You will love the simplicity and reliability.